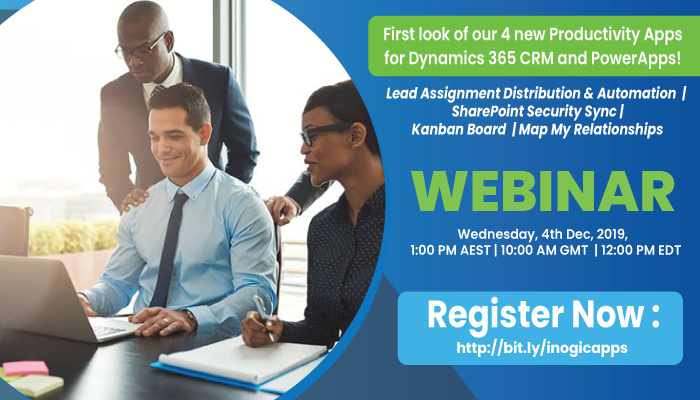 We are happy and excited to introduce you to our 4 new PowerApps/Dynamics 365 CRM productivity apps. So here we are with yet another exclusive session where you will get the first look of our 4 new productivity apps – Lead Assignment Distribution & Automation, SharePoint Security Sync, Kanban Board and Map My Relationships!
Register Now! For this exclusive session on new PowerApps/Dynamics 365 CRM productivity apps.
Wednesday, 4th December, 2019

1:00 PM AEST│10:00 AM GMT│12:00 PM EDT
In this webinar you will be given detailed information about the following apps:
Lead Assignment Distribution & Automation
Lead Assignment Distribution & Automation enables systematic allotment/assignment of leads to respective Dynamics 365 CRM users. It helps managers to allocate and distribute incoming leads and customer queries in an organized way. This ensures fair distribution of workload within each team. Automated distribution and assignment improves efficiency which results in higher level of customer satisfaction and in turn higher ROI.
SharePoint Security Sync
SharePoint Security Sync syncs and replicates Dynamics 365 CRM user's security privileges in SharePoint. This means that the security assigned for user in Dynamics 365 CRM will be replicated in SharePoint. The user can exercise the same level of access in SharePoint that is assigned to them in Dynamics 365 CRM. Any changes made in security role of a user in Dynamics 365 CRM will be simultaneously reflected in SharePoint.
Kanban Board
Kanban Board provides an organized card-based view of Entity records in home grid. Records are systematically arranged in movable cards below each list based on different criteria. This helps to search and filter records quickly as per business requirement.
Map My Relationships
Map My Relationships visualizes relationships between Entities or related records in a single view. It also allows users to easily navigate to related records and perform various activities like create Email, Phone Call, Appointment etc. Users can thus, get information at a glance leading to swift action and timely completion of various tasks.
So join us and have a delightful interactive session with our team of solution experts and solve your queries live.
Feel free to share your feedback and suggestions which inspires us to think out of the box and come up with more solutions.
Don't wait! Register Now! Grab this opportunity for one-on-one with our team of experts.
Cannot attend live? You can still register, as we will be sending out the recording to all the registrants!
Looking forward to a lively and delightful session that boggles your mind.