We are in the season of new releases! All our products are being polished with new features and soon there will be a wave of updates to revolutionize your Dynamics 365 experience. As you know, Dynamics 365 is a vast system that has innumerable processes running in synchronization and since number of users working in a Dynamics 365 organization can be large, it is usually little tricky to manage them together. It is mandatory that the users of an organization stay up-to-date with the CRM's ongoing processes and activities in order to act quickly without interrupting the system.
For long, we have been getting requests to introduce a provision for notifying users in Dynamics 365 CRM about the various updates made. Therefore, here we are, soon launching another powerful application in the league of our versatile productivity apps viz. Alerts4Dynamics! It is no more a distant deal to schedule and manage alerts in Dynamics 365 CRM. It's all in grab with this intelligently developed app that enables you to notify your CRM users universally on multiple levels. Whether you want to inform the users of holiday, or want a particular user to reactivate a Quote, or wish to change the status of a record, all you have to do is send them notifications!
For sending these notifications you need to follow simple methods and can personalize the entire experience. Managers can create their own messages, set the date of activation and expiration for alerts, define whether they want the alerts to convey some Information or warn the users about some impending event, or intimate them about something critical. In a nutshell, Alerts4Dynamics is a comprehensively designed adaptable app for Dynamics 365 CRM that allows transferring instructions to the users in form of notifications. Alerts4Dynamics also allows sending the notification to users through email apart from displaying it in the CRM.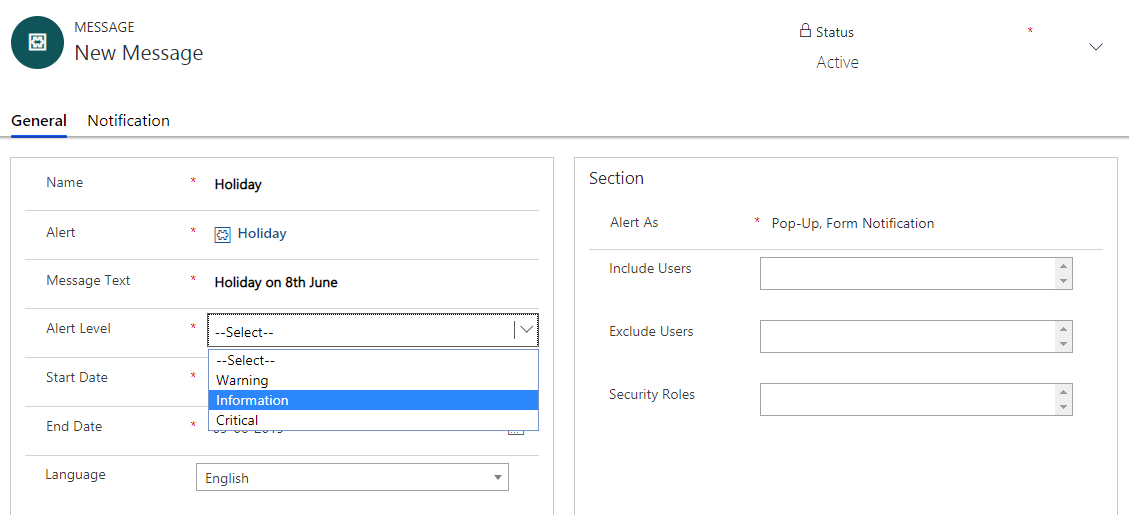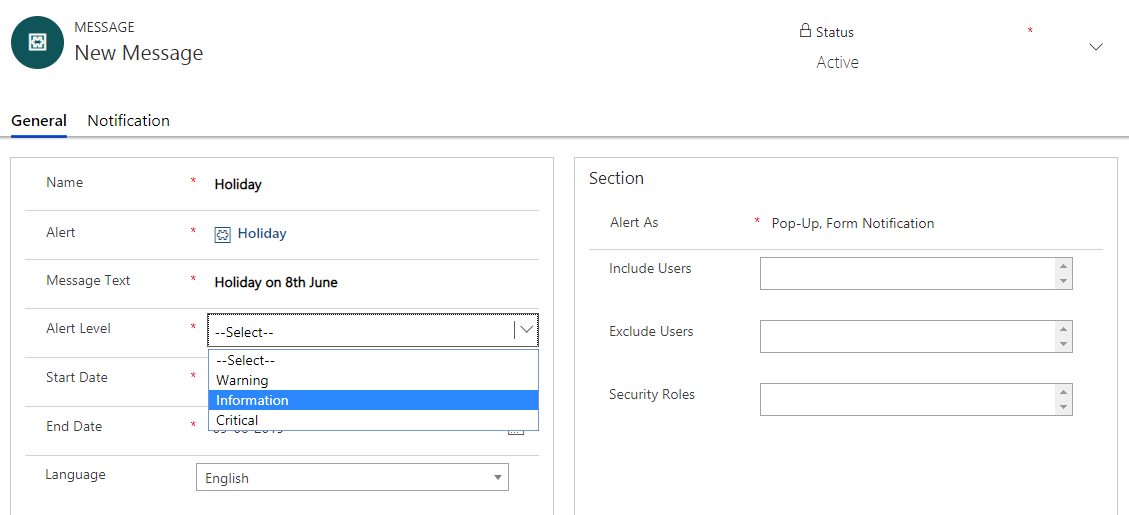 However, there is still one concern, even though the manager might configure an alert with the message, how will he come to know whether a notification has been seen by a user? For this, we have enabled the provision for keeping track of alerts read or dismissed by the users. It gives the manager a stronger grip over the information he needs to pass to their users and trace if they have been received or not. With this blog we are covering the functional and user perspective of the product. In our next blog coming along with the release, we will delve into the technicality of Alerts4Dynamics for you to better integrate the solution in your Dynamics 365 CRM which also works in PowerApps (CDS). For now, let's understand why we designed this product and how it will accelerate your workforce towards better goals.
Accessibility
With this powerful application managers can stay in touch with their users individually to pass on the details and instructions. You can also notify your users by creating alerts in your CRM through mobiles and tablets.
Time Effective
By notifying the users without conducting a meeting, it saves a lot of time by simply creating personalized alerts.
Precision
As alerts are created in Dynamics 365 CRM they can be carefully reviewed for accuracy. The clear instruction to each user can be given in the form of alerts to prevent skipping any details that might be forgotten otherwise.
Globally Applicable
As the alerts can also be created on global level every user in the CRM can view the alert and act in accordance.
Track Alerts for Optimal Control
All the notifications can be seen together. The status of read or dismissed notification can also be seen with user details.
Increase User Adoption
By passing on the directions to users promptly the manager can nurture a better user adoption of its workforce.
Therefore, it considerably expands your reach and allows you to manage the functioning of your Dynamics 365 CRM like never before. Add, View and Manage alerts to prevent any roadblocks or hazards and gain confidence of your users by being proactive.
Before we sign off, we also want to inform you that we are exhibiting at Booth #22 in Atlanta at MBA Summit. Freshly brewed Alerts4Dynamics and other products' updates will be demonstrated by our talented team exclusively and they will also be attending to any queries you may have. We are truly excited about the Summit and meeting you for an enriching experience.
You can also read more about the product Alerts4Dynamics from our Website!
See you soon!!