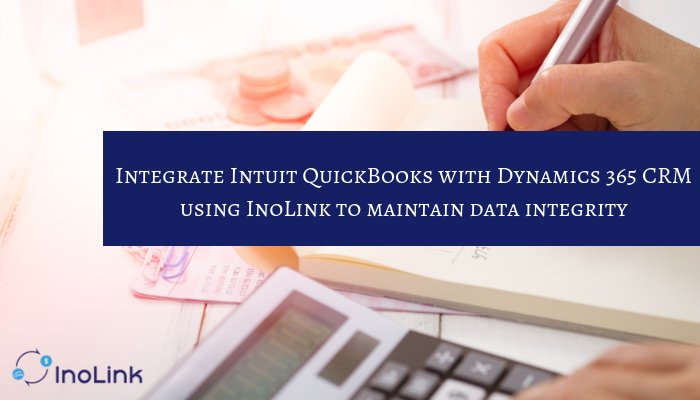 Have you ever wondered a scenario where you could view the accounting data of your organization within Dynamics CRM to expedite your business process? We have just the right solution for you! InoLink is a tool that integrates Dynamics 365 CRM with your accounting software Intuit QuickBooks. It allows Sales team of an organization, which does not have access to Intuit QuickBooks or accounting information of its organization, to view this data in Dynamics CRM.
In our last release, we hosted InoLink on Azure, made it real-time, and extended the support of one instance of Dynamics CRM to multiple QuickBooks companies. As we believe in keeping ourselves updated with technology we came up with another recent release. Yes! We have modified InoLink and added one more functionality to it, now you have the option to promote data from Dynamics CRM to QuickBooks based on option set. What is option set? As InoLink supports multiple QuickBooks companies' data sync with single instance of Dynamics CRM, how can you segregate different QuickBooks companies' data while syncing?
Here option set comes in the picture, basically, you can have option set type of field on your Account and Contact entity to sync your QuickBooks companies' data based on the option set field which is present on Account and Contact in Dynamics 365 CRM. This makes promoting data from Dynamics CRM to QuickBooks Company more organized.
Let's consider a use-case. Suppose you have two companies in your QuickBooks, one to manage Supplier Type of customers and another to manage Client Type of customers. Type is a field that exists in Dynamics CRM. Now you want to sync data between QuickBooks and Dynamics CRM in such a way, that data from first QuickBooks customer is synced with Supplier Type in Dynamics CRM and data from second QuickBooks customer is synced in Client Type in Dynamics CRM. For this we can use option set field, we define the filter criteria as Type. The data with customer Supplier will search if there is a same record with Type Supplier in Dynamics CRM. If a same record exists, it will simply update the record and if not, it will create a new record with Type as Supplier in Dynamics CRM and similarly, it will search and perform action for Type Client. Thus data is synced in corresponding companies based on option set. This maintains data integrity and allows data sync in a streamlined manner.
This was the update of our latest release. Let's understand InoLink's functionality better.
As you know, InoLink provides two-way synchronization of data in Account, Contact, Products, and Prices, which means as soon there is a data update in QuickBooks or Dynamics CRM in these Entities, it reflects in both the systems by synchronization. Here, if a record doesn't exist in one of the systems it is auto-created. These entities can be unlinked at any time allowing you to choose to stop synchronization of this data.
There is no provision to send data from Transaction History (Estimate, Credit Memo and Invoice) from QuickBooks to Dynamics CRM in OOB entities, so we ship a custom Entity Sales Transaction with InoLink. We have only one-way one-time promotion from Dynamics 365 CRM to QuickBooks. Once this synchronization takes place you cannot repeat the process. However, you can alter the data in these Entities manually. At any point of time, you can choose to bulk transfer data from Dynamics CRM to QuickBooks or otherwise. This transfer runs in batches as there is concurrency error in QuickBooks if all the data is transferred at once. Apart from bulk transaction, there is also real-time synchronization of data from Dynamics 365 to QuickBooks which means as soon there is an update in Dynamics CRM it is reflected in QuickBooks.
Using InoLink you can also trace the Aging Details i.e., when an invoice is created but payment is still pending, one is able to see for how long the payment has been pending and is reflected in Accounts and Contact entity of Dynamics CRM. As both the systems are linked so there is seamless data synchronization but no duplication. Using InoLink it is also possible to calculate tax in Quote/Order/Invoice.
Thus you have seen how using InoLink all your accounting needs are met from within Dynamics 365 CRM. Let's explore further and take a glance at the benefits of InoLink:
Meets Accounting Needs Quickly
Sales team can easily perform actions and do analysis of the accounting data of their organization without meddling with the process.
Provides deep insight into the accounting information of a customer.
Sales team can make informed decisions to augment the sales process for customer satisfaction.
Multiple QuickBooks Companies
Using InoLink you can sync multiple QuickBooks companies with single instance of Dynamics CRM.
Using InoLink you can expedite your business process by increasing the ROI. Isn't this a seamless way to meet your accounting needs! To download the solution and go through its collaterals visit our Website or Microsoft AppSource.
We hope you enjoyed the blog, please leave your comments in the section below.
In case you have any queries, doubts or want to understand the functionality of InoLink better by an extensive demo, mail at crm@inogic.com
We would be thrilled to interact with you. Before we return with another exciting blog, keep exploring our other articles.
Ciao!