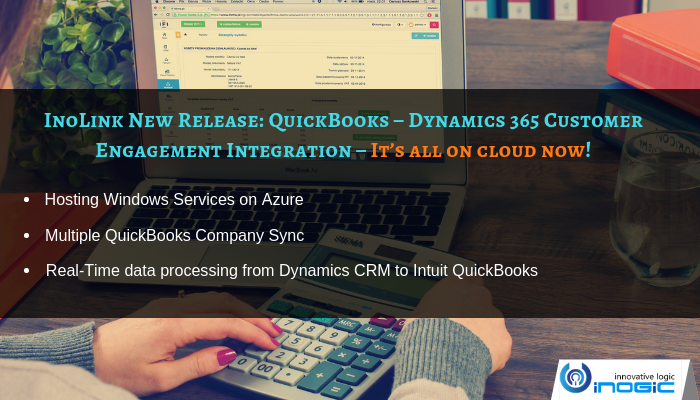 Accounting system is an important unit of any organization. It comprises the intricate employee and transaction details along with expenses, and is handled by the Accounting team. With advent of time, accounting systems are sprouting at a great pace and there is an insistent demand for them on a varying scale. For e.g. even a small pharmacy has accounting system that tracks the quantity of drugs sold and generates invoice for final purchase. Similarly, large scale organizations have ERP/HRMS systems that keep account of employee salary and other financial details. There are interfaces, which make this task easier by integrating accounting systems with other management systems.
Our product InoLink, is one such bi-directional integration tool that syncs Dynamics 365 Customer Engagement data with accounting system Intuit QuickBooks. We have been enhancing the functionality of InoLink immensely ever since its inception. In our last release, we upgraded it to support Australian version of QuickBooks. While this release was still in process, a batch of our team of dedicated professionals had already started working on the next release.
So, here we are, announcing the new release of InoLink! With this release we have revamped the structure of InoLink entirely. We have enhanced its UI and functionality to make it more user friendly and easy to adapt to. Let's have a walkthrough of the new features introduced in this release.
Hosting Windows Services on Azure
As there is an outset of cloud in trend, we are hosting our Windows Services to Azure. Microsoft Azure is a cloud computing service that builds, tests, deploys and manages services through wide range of Microsoft data centers. Earlier our deployment model was On-Premise, which needed evolution as device dependence led to accessibility issues. One system had to be hooked in order to keep the synchronization running smoothly without interruption. With our current release we have modified this. We have hosted InoLink services to Azure and now Dynamics 365 CE users can configure InoLink services and features directly from their Dynamics 365 Customer Engagement instance.
Multiple QuickBooks Company Sync
Up till now only one QuickBooks Company could be synced with single instance of Dynamics 365 Customer Engagement. However, with our latest release we have updated this. Now, you can sync one or more QuickBooks Company with single instance of Dynamics 365 CE. For the synchronization of QuickBooks with Dynamics 365 CE details like Company Name, Country and Base Currency is mandatory besides other parameters. This current version of InoLink supports US, UK, Canada and Australian version of QuickBooks.
Real-Time data processing from Dynamics CRM to Intuit QuickBooks
Until the last release our solution InoLink was hosted On Premise. For every update Windows Services had to pull changes from the system and sync data at given interval. With this release we have made this functionality a notch better by making it real-time. Now as soon there is some transaction in the instance of Dynamics 365 Customer Engagement it is reflected immediately in the QuickBooks Company. This has made the process of synchronization faster and more effective.
Aforementioned are the features that are covered in our current release. This release has considered factors like lowering your infrastructure costs, zero dependence on Windows application, user friendly experience, platform independence, etc.
InoLink ensures taking your accounting experience with Dynamics 365 CE to pure intelligence and appreciates your association with us all this while. We hope to take this acquaintance even further by receiving your valuable feedback and suggestion to further enhance our product.
You can download the New InoLink Cloud solution here!
Thank You! We await your feedback on crm@inogic.com.