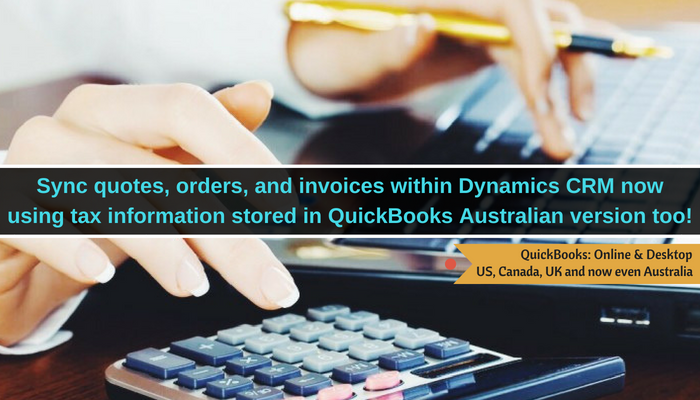 In most of the business types, there is a need of a financial system and Customer Relationship Management to maintain the customer details. Many times the sales team only have access to CRM system. Although sometimes the sales team do need the financial details in the sales process. So, in that case, there is a need for a solution that will help the sales team to get this financial details without accessing the financial system. InoLink is the solution that integrates Microsoft Dynamics 365 CRM to Intuit QuickBooks. InoLink has been supporting US, UK, Canada QuickBooks versions and now has extended support for the Australian version of QuickBooks too.
Depending on the localized version of QuickBooks, InoLink synchronizes the Sales Tax code from the Customer and/or Item present in QuickBooks to the Dynamics 365 CRM Account and Product respectively. Also, there is a provision of synchronizing the write-in products in taxable form from Dynamics CRM to QuickBooks Online.
Let's have a look at some Key Features of InoLink:
Bi-Directional: Two-way sync of Accounts, Contacts, Products, and Prices.
Transaction Sync: Ability to promote Quote/Order/Invoice from Dynamics 365/CRM to QuickBooks.
Accounting History: Access complete transaction history and their updates right within Dynamics 365 CRM.
Account Balances: View customer open balances and aging details to help schedule follow-ups.
Tax Calculation: Perform Sales tax calculation in Dynamics 365/CRM for Quotes, Orders, and Invoices.
Reporting: Accounting Dashboards shipped along that display accounting transaction updates in Dynamics 365/CRM. This includes Recent Transactions, Top Customers, and Open Invoices.
Security: Ability to control access to synced accounting data through security roles and field level security.
Get your 15 days free trial right away by emailing us at crm@inogic.com to start evaluating InoLink. To know more about Inolink visit our website or InfoCentre