The New Year 2018 has had an amazing start with a new release. Maplytics now supports Dynamics 365 v9.0 and the new App for Mobile & Tablets. With this release, users can now access location insights from within Dynamics CRM anytime, anywhere which helps organizations drive better customer engagement. Year 2017 has been an equally remarkable one with many new features added to Maplytics, let's recap the Best of 2017 for Maplytics – Your favorite Bing Maps integration solution for Dynamics CRM.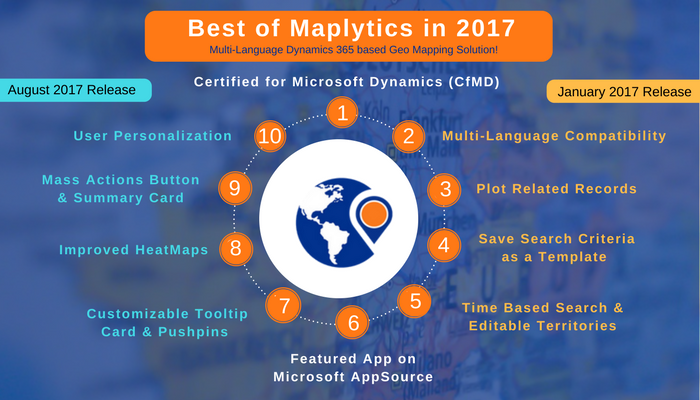 Before we start with the features let us first look at the biggest news of the year 2017, Maplytics™ has become one of the first geo-analytical mapping solutions to be Certified for Microsoft Dynamics (CfMD)by meeting Microsoft Corp.'s highest standard for partner-developed software.
Our focus has always been to work on new features and making it easier for us to capture customer geo-location data and engage in new opportunities with them.  As always our Microsoft Dynamics Partners played a very big role in this continuous transition and our End users who have been ensuring to keep Maplytics as the featured App on Microsoft AppSource.

Let's walk through the trending features of Maplytics in 2017;
Multi-Language Compatibility: Maplytics is one of the few multi-language compatible mapping tool for Dynamics CRM. It currently supports six different languages namely English, French, German, Portuguese, Spanish and Turkish! Team Maplytics has prepared a general framework to expand the capabilities beyond the currently supported languages. We aim to support all languages in the future and with the general framework in place, it will only take few weeks for Team Maplytics to deliver your favourite mapping tool for Dynamics CRM in your language of your choice!
Plot Related Records: User can easily plot related (Child) records and analyze a particular record on map. User can plot 1:N relationship of one entity with the other. You can also plot related records on the individual map, giving you insights right where you need them!
Save Search Criteria as a Template: Radius search allowed users to narrow down their searches but you have to search for the same search criteria repeatedly! With this new release, you can now save search criteria with filters and zoom level, as a template effortlessly.
Time Based Search: You can now perform the search based on distance or time and find leads/accounts within 'x' minutes of driving time. This will help you to focus on leads/accounts in the nearby region, based on traveling time!
Editable Territories: With the Maplytics August Release, we added the functionality to add geographical boundaries (be it shape or region) to territories. This new release is taking this functionality further by allowing you to edit existing territories (geographical boundaries).
User Personalization: Previously the Map Configuration was applied on the Organization Level, but with the new release, we have made this configuration available on a User Level and have added few more settings for further customization! Users can now define the Map Center and Zoom Level they want to see by default on loading the map.
Mass Actions Button: The new release incorporates new 'Mass Actions' to allow users to do more with the Dynamics CRM data plotted on the map. With the new release, we have added SIXnew Mass Actions namely Add to Route, Manage Territory, Add Task, Schedule Appointment, Send Email, and Execute Workflow to allow users to get more done with the Dynamics CRM data plotted on the map.
Summary Card: The new release incorporates Summary Card feature allowing users to get summarized/aggregate information for any enclosed area on the map like potential revenue. By getting the summarized information of any enclosed region on the map, users can quickly analyze and devise their strategy for that particular region!
Customizable Tooltip Card & Pushpins: With the new release, The user can now customize the quick call to action buttons on the Tooltip card and get the actions you need most, just a click away! The customizable pushpins feature allows users to customize the shape and color of the pushpin for different Entity Category and Entity Views.
Improved Heat Map: With the new release, we have improved Heat Maps and added a new No Boundary visualization to allow users to create a Heat Map based on the density of the measure and analyze their data covering the whole geographical spread.
With a big release at the start of 2018, we will continue to make this experience more innovative with your feedback and be on a mission of converting customer relation to customer relationships!
Get started with Maplytics and be productive on the go! Download your free trial for Dynamics 365 Customer Engagement v9.0 today!