Introduction:
Resco is amazing, and as we dive deeper, we are amazed at the flexibility the app offers to customize various aspects.
Be it a form, view, or a custom tab, the extent to which a particular section can be customized is countless.
This time around, we were impressed by the way Resco allows to change the title of the custom signature tab.
Adding a new Signature tab in Resco:
Apart from the signature option that we get while creating a Note, we also have the option of adding a whole new tab for the Signature!
Signature in the Note section:

Signature as an independent tab:
To know more about adding a new Signature tab, refer this article.
After adding the Signature tab, we can use it in the same way the Signature is used under the Notes section.
The new Signature tab would create a note record with the signature image attached to it.
However, the title still shows Signature.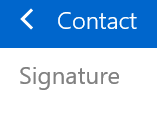 Changing the Title of the custom Signature tab in Resco:
You can easily modify this default title to a custom title like 'Sign Here', or maybe something else with 'Localizations'.
Apart from translating texts to another language, Localizations can also be used to modify existing items allowing users to be more familiar with the app by using their organization specific vocabulary.
To change the text 'Signature' to 'Sign Here', all we have to do is;
1. Go to Localizations in the Woodford app.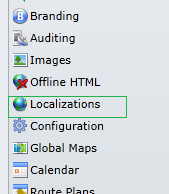 2. Add a new localization.
3. Create a new record in the below format.

Where,
Contact = entity name
CustSignature = signature tab name
Signature = the title that needs to be modified
And you are done 🙂 Hope this helps!