Microsoft has unveiled Dynamics 365 a game-changer bringing together best of CRM and ERP cloud offerings. Dynamics 365 is a complete suite of intelligent business applications including; Sales, Operations, Field Service, Customer Service, Financials, Project Service Automation, and Marketing. You can further complement it with the best of apps from Microsoft AppSource required for your specific business needs.
Curious to know what's new in Dynamics 365 and explore it more? Visit Help and Training center to know what Dynamics 365 is all about. It will help users, administrators, and developers for getting started with important information, eBooks, videos, etc.
If you want to switch from existing subscription of Dynamics CRM Online to Dynamics 365 (Online), you will find this link helpful. While switching from Dynamics CRM Online to Dynamics 365 (Online), it is important to know your options! You can stay with the same functionalities of Dynamics CRM Online or can take benefits of new ones from Dynamics 365. Before you move ahead, compare licensing here.
In this blog, we will give you a walk-through for setting up your trial and creating new Dynamics 365 account. You can follow below mentioned steps;
Getting started with new Dynamics 365 is easy. Visit Dynamics 365 Sign Up page and after selecting Country name, provide all the details as shown below.
Next, create your user ID and click on Create my Account.
After following few steps for verification, you will get below screen. Here, click on "Set up".
This will redirect to next screen as shown below. Select your preferred language and select the services you want to customize your Dynamics 365 account with. Once done, click on Complete Setup.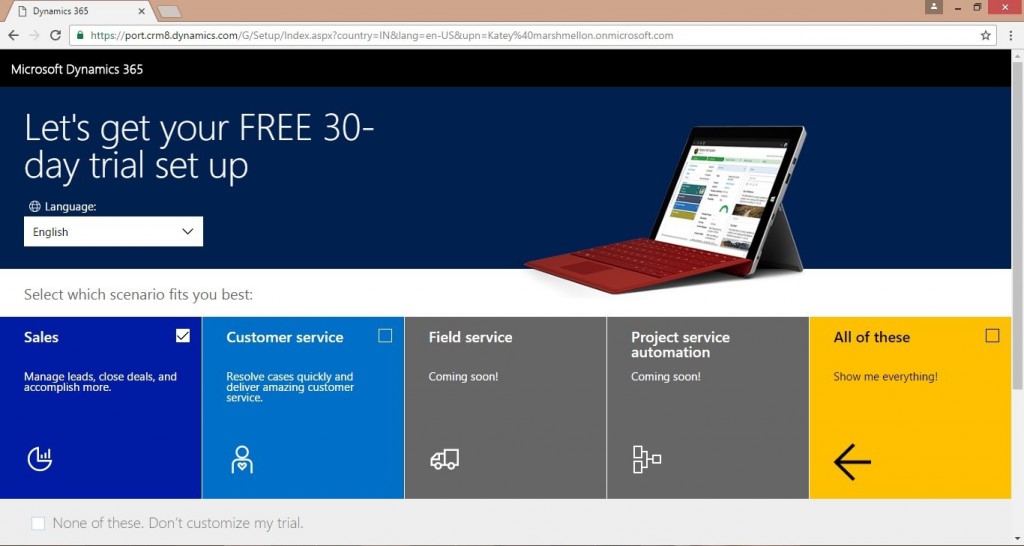 And there you are, free to roam around the new Dynamics 365!
Done with Dynamics 365 Online trial? Get best-suited solutions for your Dynamics 365 from AppSource!