Microsoft has introduced a new knowledge management system for Dynamics CRM Online 2016 Update and Dynamics CRM 2016 On-Premises. This new system enables users to create rich knowledge articles, which also supports embedding external multimedia content like images and videos in the form of links. It also allows translations and versioning for the articles.
You can create and update knowledge articles only on Interactive Service Hub. To create new knowledge article follow the below mentioned steps:
Go To Settings → Interactive Service Hub
It redirects you to a new screen where you can create new Knowledge Article by following path: Service → Knowledge Articles
It will further redirect you to new window where you can see your articles. To create new article click on New button.
Here you can fill the information for your article and save article by clicking on save button.
Business Process Flow:
A typical knowledge management process like authoring, reviewing, approving or rejecting an article, publishing an article is enabled out of the box through business process flow. We can find a business process flow on an article as shown in below screenshot.

In authoring state, you can find below options. To go into next step you have to fill all the fields data as all fields are required in this step. We can set keywords and Subject of the knowledge article in this pop up window. In addition, we can Assign Primary Author for this article. To go to next stage make Mark for Review as Completed. Then click on Next Stage->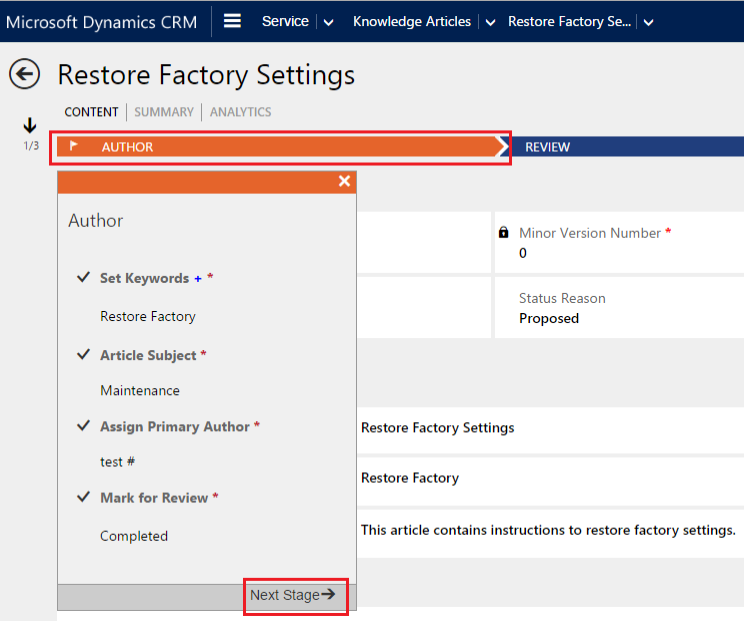 It will go into Review stage of knowledge article. Here we have to approve or reject the knowledge article. If we rejects the knowledge article then we have to give the reason for it. By approving the knowledge article, we can go to the next stage of the Business Process Flow that is Publish stage.
In this stage, we have to Set Product Association as completed and we have to set the Expiration Date of this article. After that close this pop up window of publish stage.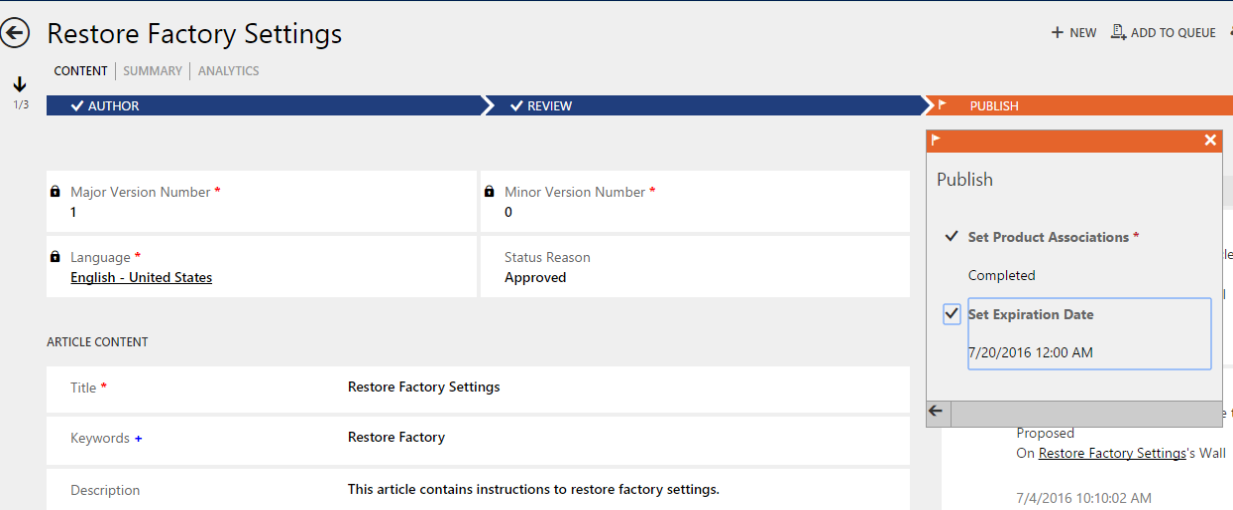 Now you can publish this article by clicking on Publish button, which is there in ribbon bar.

If you directly want to publish, the article without following above steps you can do it.
In CRM 2016, they have introduced a new security role as Knowledge Manager, which is having all the permissions related to knowledge articles.
As discussed above Knowledge Article is having following mentioned states.
Draft: This state is when you have just started knowledge articles, which includes; proposed article, drafts, newly created, or those who need review. Create permissions are needed for creating new article.
Approved: This state means articles, which have been reviewed and marked as Approved. "Approve Knowledge Articles" permission is needed for approving any article.
To assign the permission Go To Settings → Security → Security Roles → Select the role to which you want to give the approve permission.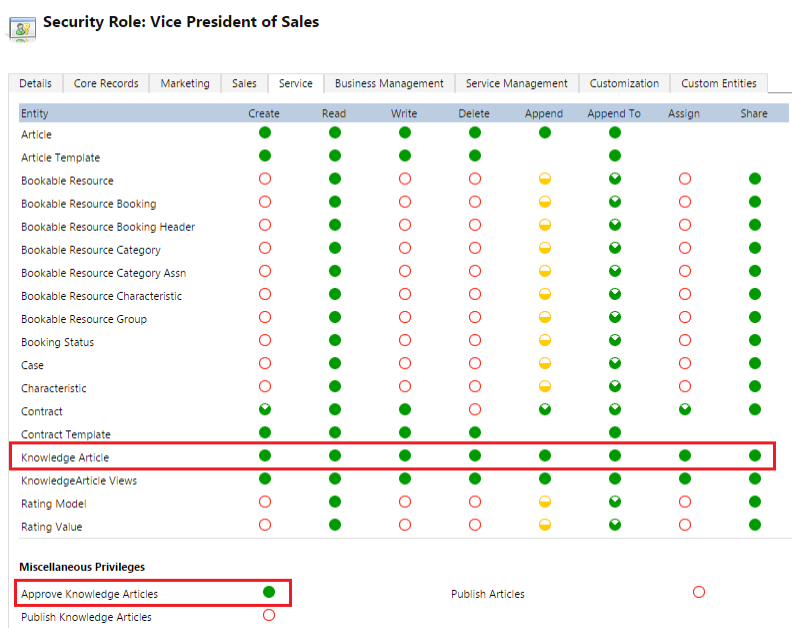 Scheduled: This state is for articles, which have been scheduled for publishing.
Published: This state is for knowledge articles, which are published.
Expired: This state is when knowledge articles reach the set expiration date. It can be reviewed to find what action (update, republish, or archive) it needs.
Archived: This state is for articles, which do not presently serve a business case but have some value, which needs to be preserved.
Discarded: This state is for the knowledge articles, which are okay to be deleted.
We can find state of the article at the bottom of the page as shown in below screenshot.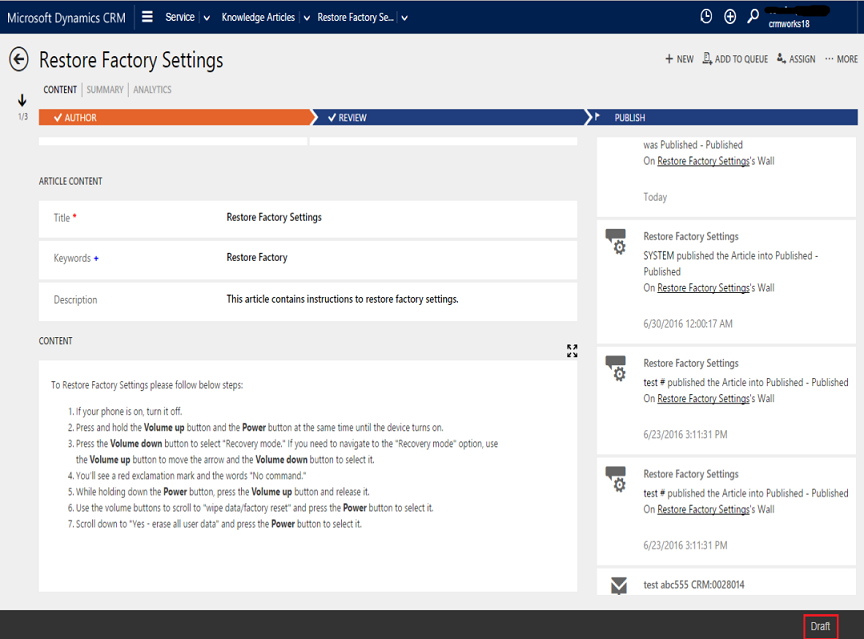 You can mail knowledge articles to customers by finding the article on case record and selecting the option "Link Article to the Case and Email Content" and it will automatically be inserted into new email activity.
To Link the knowledge article with the case follow below steps:
Go to Service → Cases
Open a case record
On the Activity wall, click KB Records
You will find 3 options to select KB Articles state wise in the drop down list as shown in below screenshot.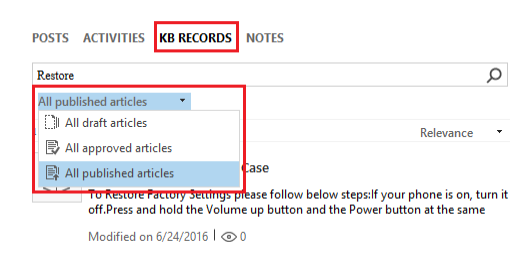 It will show results accordingly so that you can select appropriate KB Article.
Then you can link this to Case.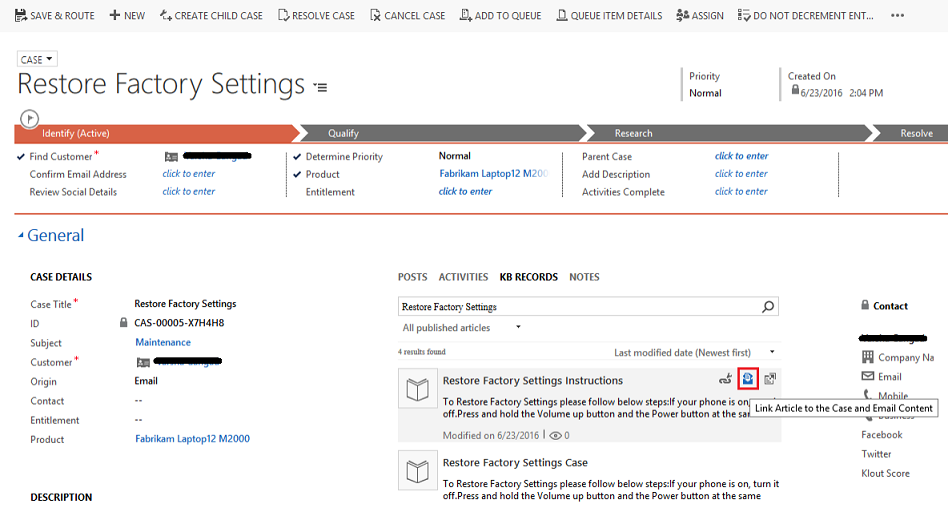 After selecting this option it will redirect you on new email form where content of email is set automatically same as selected knowledge article as shown in below screenshot. You can add other information and can send this email by clicking on SEND button of ribbon bar as shown in below screenshot.
It will send the knowledge article to customer of the case as shown in below screenshot.
Conclusion:
Knowledge management system of Microsoft Dynamics CRM has proved to be one of the essential factor helping to build stronger customer service by letting organization provide right information to their customers. Knowledge articles makes this Knowledge management system even better and users can use the Knowledge Article entity for managing knowledge natively in Dynamics CRM.
Have you tried new Maplytics?…if not, Download your free trial today!