Introduction:
The next step to a successful go-live of any Dynamics CRM implementation is a close review of the user adoption of the application. It is important to educate the users of the benefits of the application and inculcate the habit of using Dynamics CRM for their daily work. It could be a difficult task for administrators to track the user activity and usage of MS Dynamics CRM/365 in the absence of any user activity tracking tool that can provide them with the statistics based on which they can plan their next course of action to improve the user adoption of Dynamics CRM/365.
User Adoption Monitor to the rescue!
Up until now, Microsoft Dynamics CRM did not have a native tool to get the stats related to Dynamics CRM usage or the activities performed. User Adoption Monitor aims to fill in space and provides an easy to configure the tool. User Adoption Monitor helps managers to analyze and monitor user activities of Dynamics CRM by using insightful utilization reports on various frequency period like daily, weekly, monthly basis.
Let us take the use case for tracking the operations performed by the Sales folk in Dynamics CRM.
You have implemented the Sales module for an organization and have trained the users to record their daily leads and activities in CRM. Opportunities should also be updated in CRM so that you can get a clear visibility of the Sales Pipeline.
With User Adoption Monitor, you would go ahead and configure the tracking of the following operations
Lead – Create
Lead – Closed
Account – Create/Update
Phone Call – Closed
Appointment – Closed
Opportunity – Create
Opportunity – Won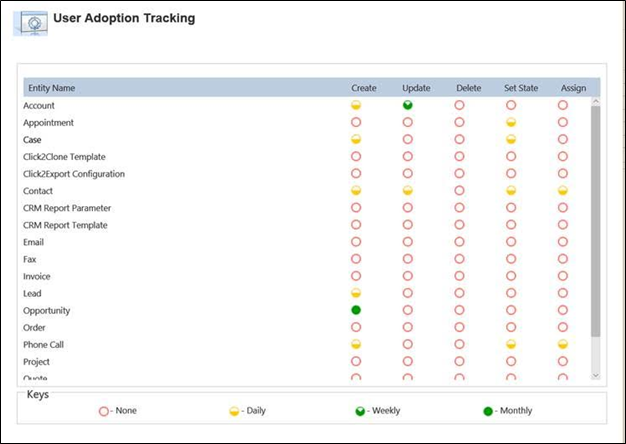 The configuration screen seen above is designed to be intuitive and familiar enough to avoid any learning curve required to use the application.
Once these have been configured, it works silently in the background tracking the specified activity of the users and recording them. The results can be found in easy to report formats as can be seen in the below screenshot
You can choose to summarize the tracking results of user adoption in Dynamics CRM either by the day or week or month. It is preferred to keep the lowest summarizing option as a later grouping of charts and reports become easier.
With these results recorded, you can go ahead, design OOB charts, and add them to your Dashboards for quick access and review.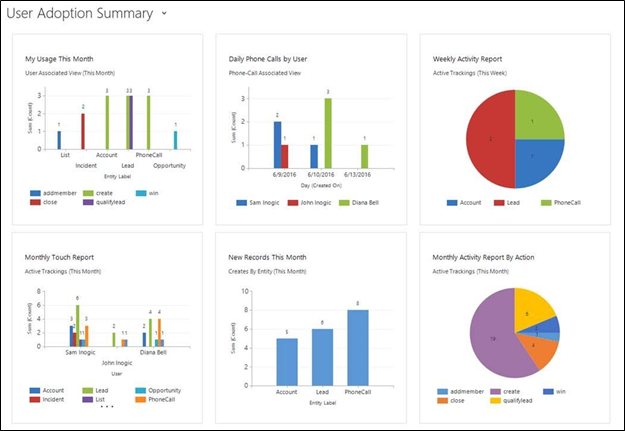 Get your trial copy now by signing up here.
Conclusion:
With User Adoption Monitor productivity app, a manager can track Dynamics CRM Access with the exact count of access made with date and time. We are working on the next step to User Adoption, which would be encouraging user adoption by gamifying Dynamics CRM. A simple to configure and easy to use gamification module for Dynamics CRM is in the works. Watch this space for information on gamification soon. Until then, monitor and identify the issues with user adoption using User Adoption Monitor solution for Dynamics CRM.
We would like to take a moment to introduce our new product Alerts4Dynamics to you. Alerts4Dynamics lets you schedule and manage alerts in Dynamics 365 CRM to notify users about the updates in CRM, due invoices, reminder to send quotes, etc. You can define target audience and send them priority based alerts via pop-ups, form notifications and emails. You can also view the log of read/dismissed alerts by users and also create alerts for multiple records by defining rules.