In Dynamics CRM Online 2016 Update 1, a new feature of Company News Timeline is introduced for Phones and Tablets. You can now view news related to an Account, Lead, Contact, or Opportunity in the CRM app on your mobile device from Bing news by installing Company News Timeline solution. This solution is available globally for Microsoft Dynamics CRM Online subscriptions.
Note: Only available in English at this time.
Follow the below mentioned steps to install the solution for CRM Online:
Sign in to https://login.microsoftonline.com with your Global Administrator or CRM System Administrator credentials.
Click Admin > CRM.
On the Manage all CRM Online instances page, select the instance to which you want to add the solution.
Click Solutions. Following snapshot is for your reference:
Once you click on Solutions following window will open:
Select the Company News Timeline solution, and then click Install. Proceed through Terms of service to accept the terms.
Before Installation, the Status will be Not Installed. When you click on Install, it will take few minutes to start installation; meanwhile it shows Status as Installation Pending. When the solution gets ready, status will change to Installed.
Note: When a solution is installed, your CRM Online site is in maintenance mode and is offline for a short time. It is recommended to install the solution when it is least troublesome for users.
Here we go…! Now you can enjoy news related to an Account, Contact, Lead, or Opportunity in the CRM app on your mobile device. This enables you to gain insights from the latest news about your customers from Bing news.
In the Screenshots below, you can see the Company News Timeline on the Contact main form in the mobile apps: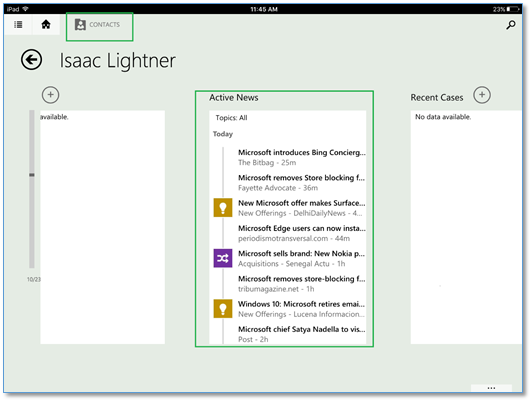 This will be similarly displayed on main forms for Account, Lead, & Opportunity.
The news articles are organized by time (Today, This Week, and Last Week), and contain the headline, date/time, and source of the news article. Events are detected and categorized (including Management Changes, New Offerings, Cost Cutting, Earnings Releases, Growth, Acquisitions, Legal Issues, and Partnerships).
Notice Regarding Data Privacy:
As mentioned before, Company News Timeline solution delivers relevant news of your Customer from Bing News; here is something about data privacy:
Once you enable the Company News Timeline solution, Customer Data from the address, name, and industry fields of your account records will be directed to Bing. Hence, the Customer Data sent to Bing (a consumer service) will be subject to the Microsoft Online Services Privacy Statement. Installation of this solution means that you agree for sending this limited set of data to the Bing service. Data sent to Bing will be stripped of your company's information and stored for diagnostics purposes. The solution can be uninstalled at any time to discontinue use of this functionality.
Have you tried new Avataar of Maplytics(Dynamics CRM + Bing Maps)?…Read more here.