In our last post we discussed about Dynamics CRM E-Training/Learning. While these are definitely very helpful but its time now to get hands on experience in Dynamics CRM. Microsoft has provided some real good options for so you can walk through key scenarios for each role and familiarize yourself with user interface, and experience how using Dynamics CRM can put you on the growth path.​
We have compiled few links for CRM online trial which I have come across, if you have noticed any others please feel free to add in comments.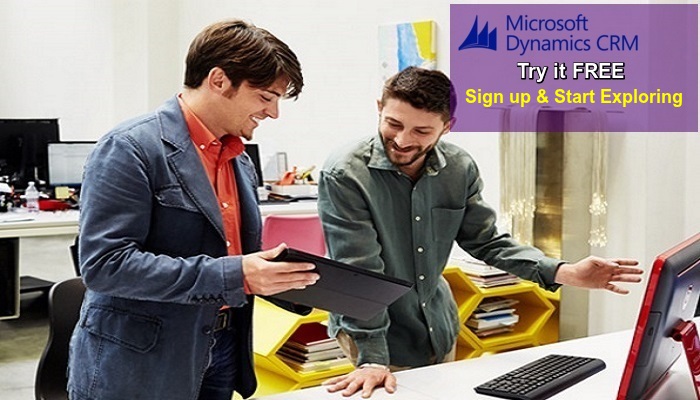 Run A Successful Trial In Your Organization – This covers everything you need to get up and running with a free trial of Dynamics CRM Online in your organization quickly till signing up for it. It starts with a guided tour, tell Microsoft the type of work you do Sales Rep, Sales Manager etc., and they'll take you on a guided tour that matches your role.
Don't miss these Check minimum system requirements and Add or remove sample data.
After the guided tour you can sign up for your 30 days online free trial. Trial is a full featured experience of Dynamics CRM Online. You will also be able to customize the trial instance and automate your business processes on it. Import your data try crm for outlook, go mobile and much much more. At the end of the free trial you have the option to convert your trial instance to a production instance by buying a paid subscription.
For a more personalized approach, Sign up for trial using Concierge Services with following features as mentioned on the site
Get a real, live Microsoft Agent, who demonstrates how Microsoft Dynamics CRM Online can work for you.
Watch as the Agent walks you through high-value sales scenarios that you choose.
Invite your team, so everyone learns together.
Ask lots of questions—your Agent is here to help!
If you are an CRM expert or Partner or just want to experiment or need a development environment for your customizations, just go to this link and get started. For any expert help do browse these Forums to post your Microsoft Dynamics CRM Queries
Our Love of Dynamics CRM "Together we Can" series is not over as yet and we will keep sharing such posts which can help our CRM friends. In the meantime, do keep following Inogic Blog, you can also find us on Twitter as well as LinkedIn sharing these tips.
Hope it Helps!
Other than developing popular innovations like Maplytics and Inolink. Inogic also has a dedicated team who can help you for any of your Microsoft Dynamcis CRM development requirement be it migrations, integration's etc. Contact us on crm@inogic.com