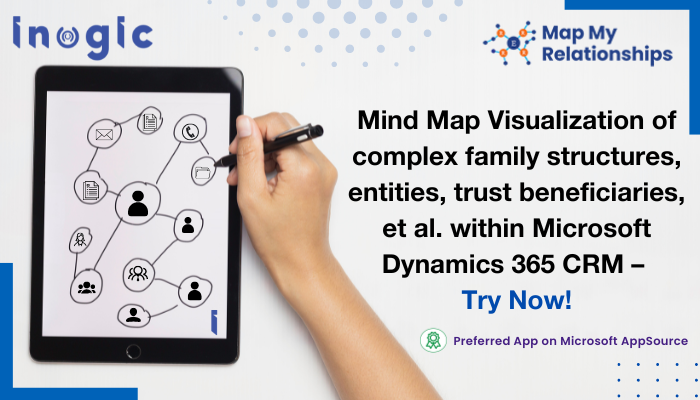 Data visualization is integral to many business processes for data-driven decision making. Companies all over the world are increasingly using visualization tools to sift through massive amounts of data and present it to stakeholders and business owners as actionable insights.
Let's understand how data visualization tools augmenting a CRM platform can enhance business productivity in the wealth management industry.
Take the case of a financial advisor working in a wealth management firm that focuses on managing generational wealth. The financial advisor will have to spend a lot of time switching between various entities in Microsoft Dynamics 365 CRM to manage and keep track of complex family structures and trust fund beneficiaries.
If only there was a way to visualize complex family structures and Microsoft Dynamics 365 CRM entity records in an engaging and interactive mind map view.
Map My Relationships, a Microsoft AppSource preferred app by Inogic, provides a simplified mind map view of relationships between Microsoft Dynamics 365 CRM entities and related records in a single view.
Map My Relation provides easy navigation to related records by eliminating the need for switching between various entity forms. Users can thus view information at a glance, leading to time efficiency, quick decisions, and swift execution of tasks.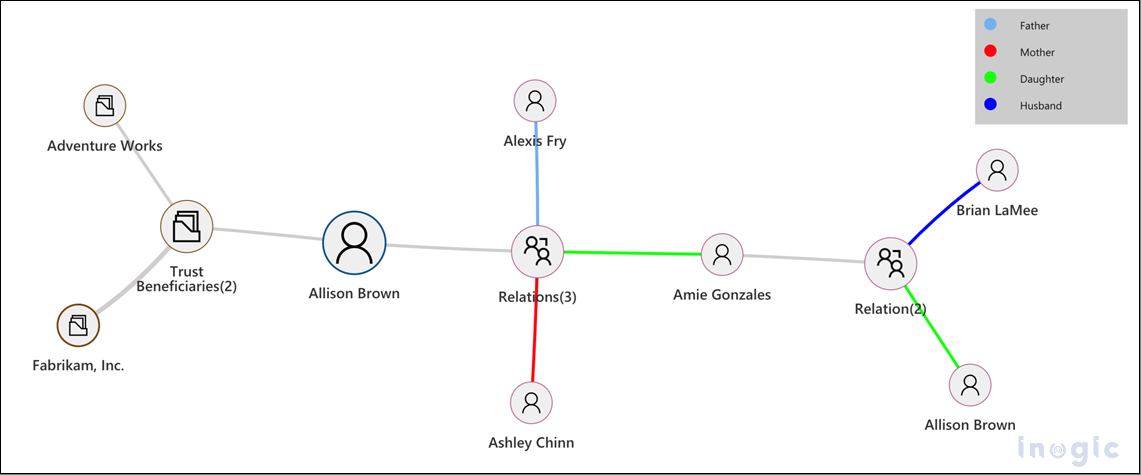 If you're curious about how the various features of this amazing tool can help wealth management firms meet their data visualization needs, keep reading.
360-Degree View
Financial advisors, while interacting with clients, can visualize relationships associated with any record by adding Map My Relationships as a control on the required form. For example, if James, a financial advisor, wants to visualize the family structure of client Allison Brown, he can add a Map My Relationships control to the contact form and visualize the entire connected family structure of Allison Brown in a mind map view.
This will provide financial advisors with a 360-degree view of important data in a single view, helping them to present complex family structures to clients in a simple and fast way.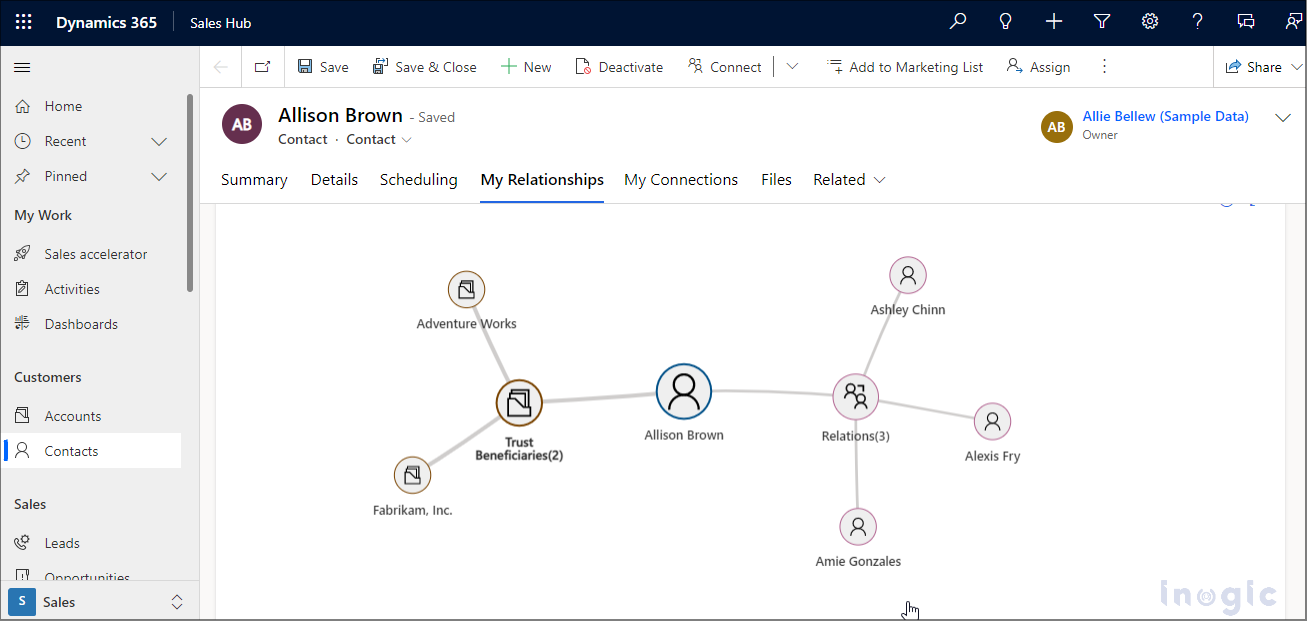 View Record Details
Map My Relationships also allows financial advisors to view a quick summary of records just by hovering the cursor over the respective record. For example, if users need a quick summary of a family member's data, they can just hover over the node of the record on the map.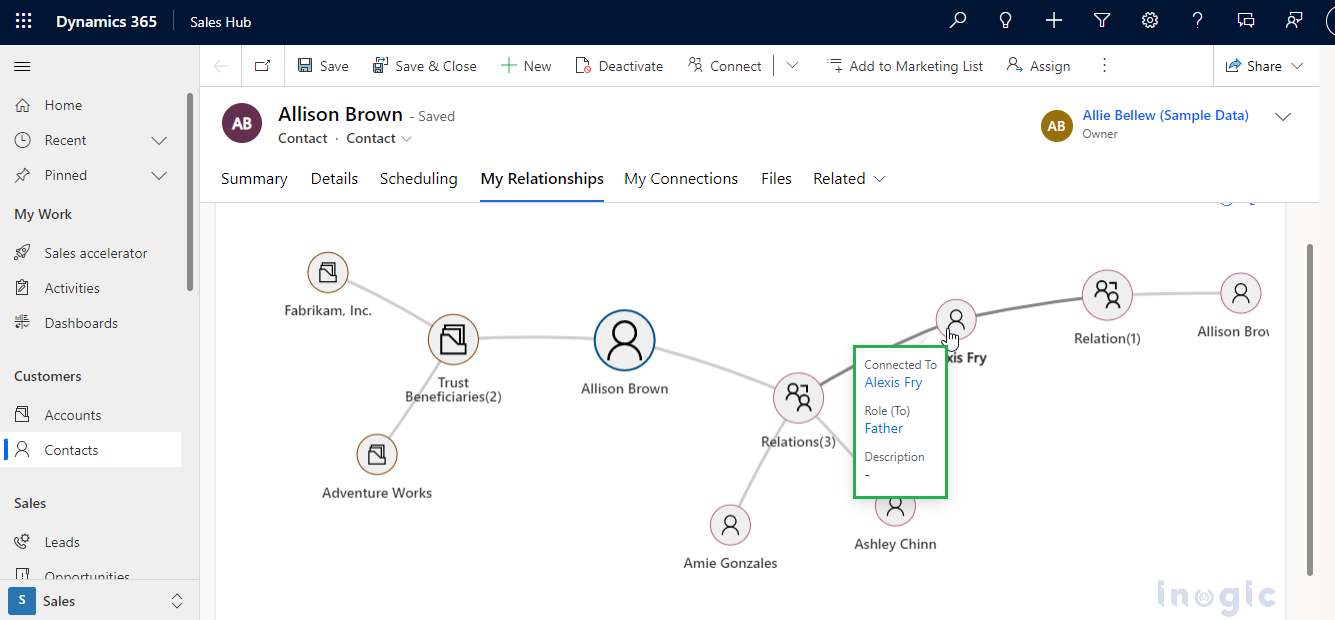 Drill Down to N-Level Relationship
With this feature, financial advisors can drill down to N-level through the records and see associated entity records within the relationship view. This provides better clarity of how records are connected to each other and helps to make quick information-based decisions.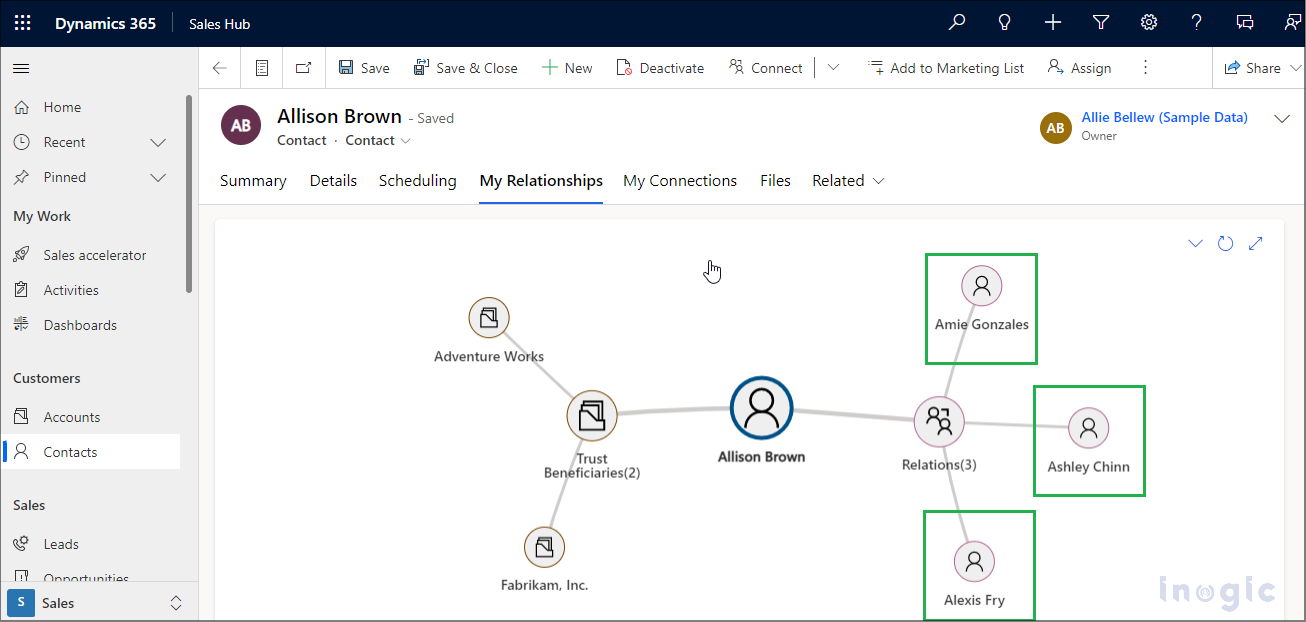 Perform Quick Actions
Along with visualization of entity relationships, Map My Relationships assists financial advisors in performing quick actions like Phone Calls, Appointments, or Adding a Reminder, etc., from the map view itself. If the financial advisor wants to set an appointment with the client about their financial performance, he can click on the entity and click on the 'Appointment' button.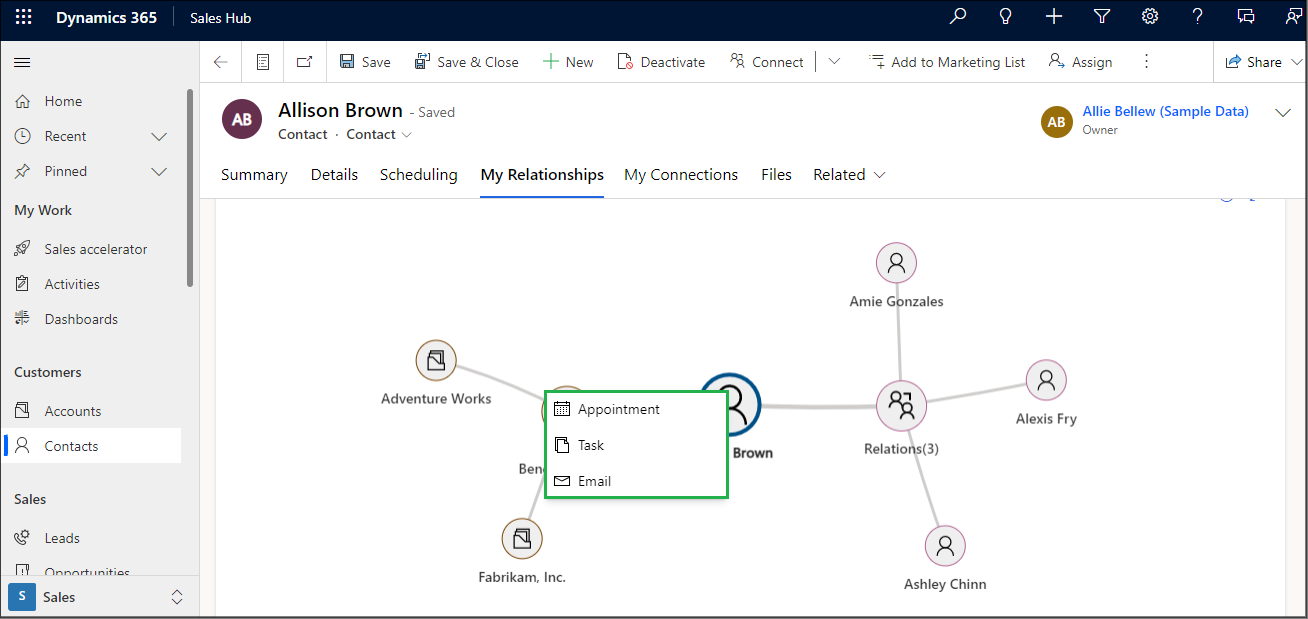 Aggregation and Grouping
Financial advisors will also be able to view the aggregate value of records in the mind map view. Suppose financial advisors want to know the aggregated value of the contact entity. They just need to double-click on the contact node in the map view, go to the individual entity, and hover over it.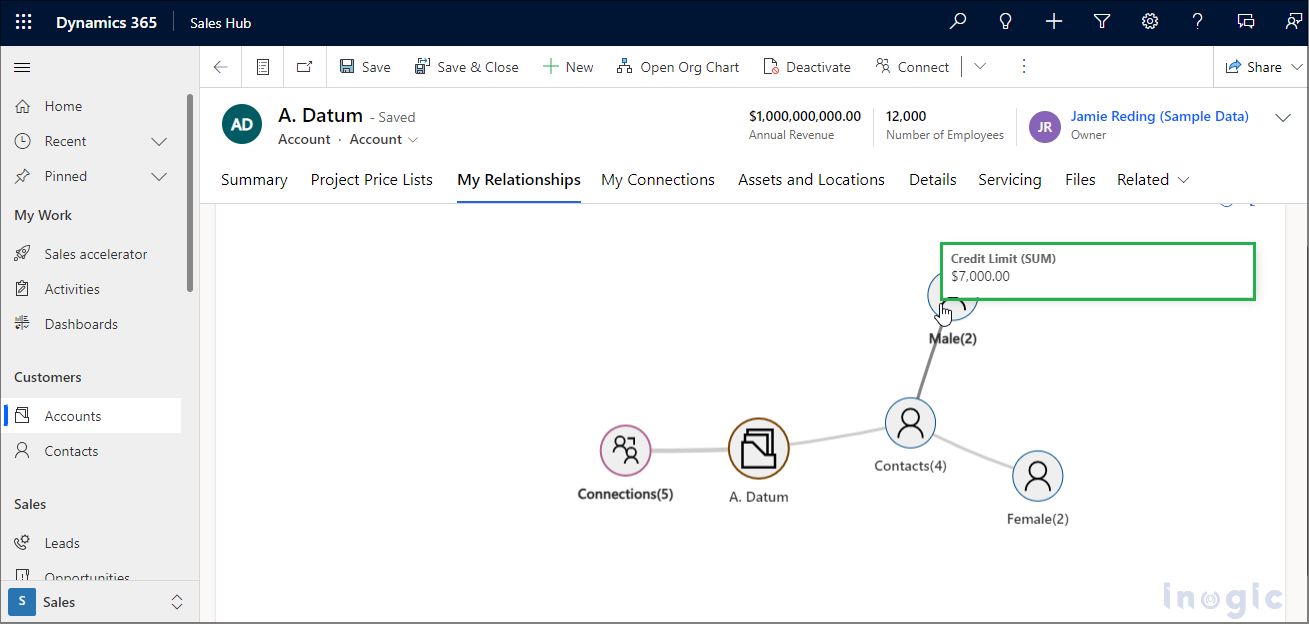 With all these features, financial advisors or wealth managers will be able to handle multiple projects swiftly. They can navigate through relationships of multiple Dynamics 365 records, have a 360-degree view of record relationships, perform quick activities, and know aggregated values.
Add Map My Relationships as a control to the required entity form to visualize the relationship associated with any record.
Map My Relationships provides all of these features and much more so that you can see complete information in a single glance and perform productive and logical record analysis. It's no surprise that it remains one of our favorite Microsoft Dynamics 365 CRM productivity apps.
Download this must-have solution today for a 15-day free trial from our website or Microsoft AppSource.
Feel free to contact us at crm@inogic.com for a personalized demo of the app or any more information.