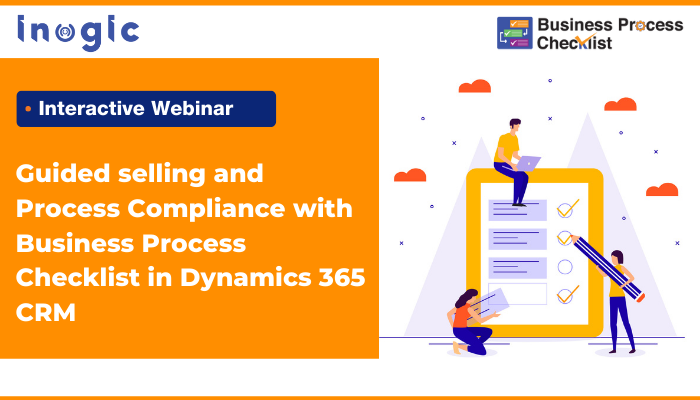 What if you are a sales manager at a product-based IT company who has to regularly advise sales executives on best practices for nurturing leads and dealing with new customers?
However, people's unavailability, delayed or inappropriate team actions, poor access to important data, and non-compliance prevent you from streamlining day-to-day tasks for creating a standardized business process.
Despite leveraging Microsoft Dynamics 365 CRM for managing business processes, you still lack consistency in your processes. What if you could automate advising your team members on the next tasks in line and enforce best practices at each stage of the business process, all within Dynamics 365 CRM?
If this describes your requirements, then the unique features of Business Process Checklist for Dynamics 365 CRM can help you standardize and achieve consistency in your business processes by simplifying the creation and enforcement of business-specific playbooks, guidelines, and policies at every stage of the business process.
To help you learn more about Business Process Checklist App, we conducted a live webinar.
Webinar – Guided Selling and Process Compliance with Business Process Checklist in Dynamics 365 CRM
In this webinar, we covered the following benefits of Business Process Checklist App:
Automate advisory to team personnel on the next steps and actions in line with predefined playbooks.
Enforce best practices, adherence, and compliance with defined business policies at every stage.
Monitor risks and implement risk-mitigation measures.
Create people-independent systems that allow processes to continue regardless of sales personnel availability.
Visualize the progress of business processes.
Don't worry if you missed it! The full webinar recording is now available here.
To try the app first-hand, you can get it for a 15-day free trial from our website or Microsoft AppSource. For more information, please visit our Docs site, or contact us at crm@inogic.com for a personalized free demo or other inquiries.
Business Process Checklist can help you create quality-focused business processes.
Have fun streamlining processes!