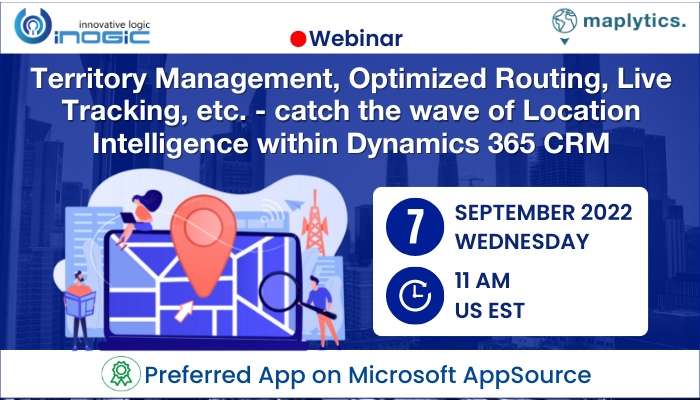 "The meeting still has 15 minutes to start but there has been an accident and a terrible traffic jam on his way. Hence, I've called up for a heads-up", said the client over the call. "Oh, thank you so much for the concern, Brian, but we have re-directed the plotted route for Paul and he'd be taking up a different, optimized route. I can track him right now on my screen and he should reach the venue in the next 10 minutes. Do not worry!", replied the field rep's manager, Shaun.
Well, convenient right? If you are somebody who likes to be well-managed and organized, we are sure the unique features of Maplytics would leave you intrigued!
Maplytics, the preferred 5-star rated app on Microsoft AppSource is an all-inclusive, geo-mapping app that seamlessly integrates maps with Microsoft Dynamics 365 CRM Data. The popular and in-demand features of Maplytics aid in managing sales territories, finding nearby clients and visualizing them on maps, plotting optimized travel routes to pre-scheduled appointments, and a lot more! With daily operations organized efficiently, concentrating on the larger business goals becomes easier. We, at Inogic, have organized a Webinar to take a deep dive into these amazing features!
So, what are you waiting for, book your seat right away and get ready for an interesting session highlighting the features, original, upgraded, and new!
Territory Management, Optimized Routing, Live Tracking, etc – catch the wave of Location Intelligence within Dynamics 365 CRM
September 07, 2022 | 11 AM EST
In this webinar, we shall be covering the following points:
Color-coded customizable pushpins and multi-address plotting over Map
Perks of Route Optimization, POI Location, and Along the Route search
Benefits of Proximity Search from the current location
Process of Auto Scheduling of Appointments and Live Tracking of reps
Advantages of Territory Management & use of Multi-layer in PCF Detail Map Control
Buck up and Save your Seat!
To experience more of Maplytics, you can always download a free trial from our website or Microsoft AppSource. For further details, you can hop on to our Blogs, Client Testimonials, and Video Library, or simply mail us at crm@inogic.com for a personalized free Demo or other mapping needs.
Achieve your business goals with Maplytics – don't think, Register Now!