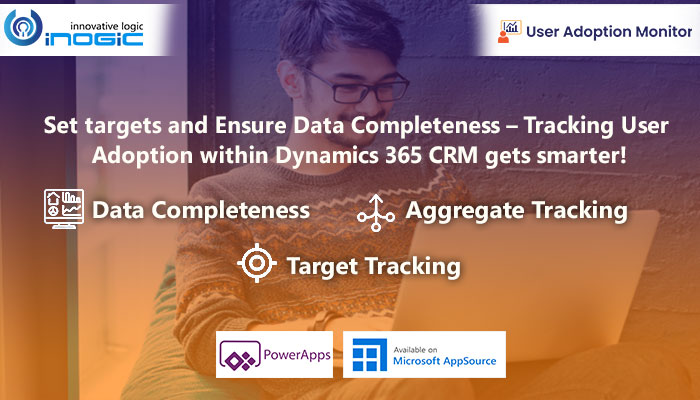 User Adoption Monitor has always been your go-to app to track, monitor and review user adoption of Dynamics 365 CRM. This is why it has become one of the Preferred Solutions available on Microsoft AppSource. Now, with the latest addition of three new features, User Adoption Monitor is on its way in being the ultimate solution for monitoring user actions on Dynamics 365 CRM.
So, what are these three new features and how will you benefit from them?
Let's have a brief look into them.
Data Completeness
Aggregate Tracking
Target Tracking
Data Completeness
'Data completeness' feature of User Adoption Monitor helps in identifying if the respective entity records have all the necessary attributes/data filled in to ensure the completeness of the record. Here, you will be given the provision to choose which of the fields from the records of the selected entity need to be filled in to make sure that the record is complete. And in case if any of these defined fields are left blank, then the completeness of the record would be reflected as 'Incomplete' until all the specified fields have been duly filled. In this way, you can ensure that you have all the required information about your customers that is necessary for conducting business.

Aggregate Tracking
With 'Aggregate Tracking' feature, you will be able to track the aggregations of respective numeric fields of the entity on which the specific user action has been defined. To understand better, let's take an example of 'Opportunity-win' action. Here, you can see that with aggregate tracking you can get the SUM of the Actual Revenue of all the Opportunities won by the users for a defined period of time. In this way, you can get the aggregate value (SUM or AVG) of Budget Amount, Est. Revenue, Freight Amount, etc.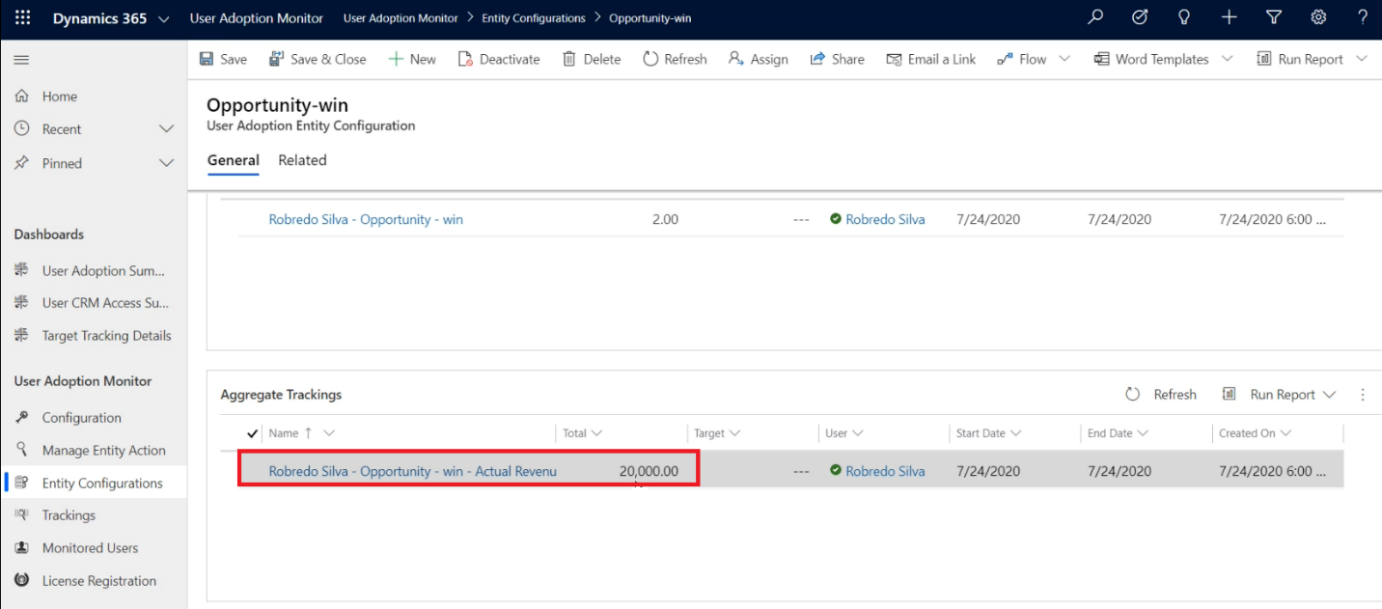 Target Tracking
With the help of 'Target Tracking' in User Adoption Monitor, you can allot and keep track of targets assigned to users in Dynamics 365 CRM. Here, you can assign the users a total number of targets or total value of targets to be achieved for given period of time. These targets can be set against the count of the respective entity actions or against the aggregate value of fields with respect to an entity action performed by the user. For example, you can set a target of winning 10 opportunities a day for each user in your organisation and then keep a track of the same. At the end of the day you can compare the performance of each user based on the targets achieved by them.


With these new features, User Adoption Monitor has fulfilled the criteria of a must-have solution that keeps on evolving to meet the latest requirements of Dynamics 365 CRM users around the world.
So, what are you waiting for? Download and explore these amazing new features from our website or Microsoft AppSource.
For personal demo and queries you can mail us at crm@inogic.com
Until then – Stay Safe, Stay Healthy and Keep Monitoring!