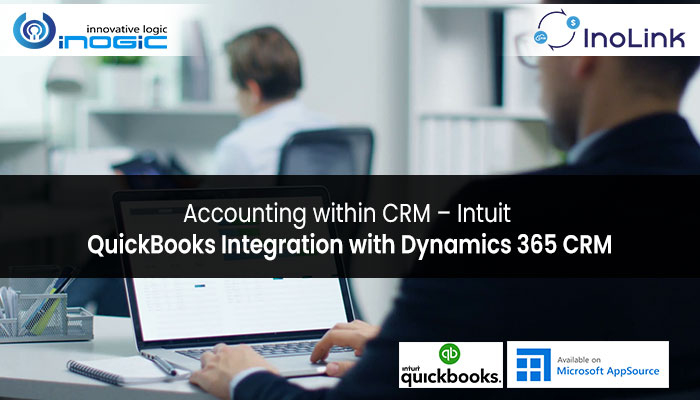 Dynamics 365 is a very powerful customer relationship management system that allows its users to manage sales and service of any organization smartly. For an organization to work seamlessly the accounting system needs to be streamlined with the CRM system uniformly. To make accounting an integral part of CRM we have recently acquired three apps from Rockton Software viz. Subscription and License Management, Automated Tax Calculator and Recurring Billing Manager. These apps integrate well into CRM and work natively from within. However, before acquiring these apps we already had our very own robust application that enables accounting within CRM.
Without further ado we would like to re-introduce you to our very popular app for accounting in CRM i.e. InoLink. InoLink provides bi-directional integration of leading accounting software Intuit QuickBooks with Dynamics 365 CRM. This integration allows calculation of accounts right within Dynamics CRM. InoLink allows its users to view taxes and other accounting data quickly and be on top of their performance.
Before we move ahead kindly do register for our exciting webinar to be held soon that would provide a comprehensive guide on this product. Register Now to avail benefits and have an in-depth insight into InoLink.
Let's understand how Intuit QuickBooks enables quick calculation of accounts in the CRM system:
Bi-directional integration
InoLink allows bi-direction sync of Account, Contact, Product and Prices. This means as soon there is an update in any of these entities, it is quickly reflected in the other system. However, this synchronization can be stopped by unlinking these entities in CRM and QuickBooks. With this quick sync data integrity is maintained and there is no loss of data.
Sync of Transaction History
There is no provision in Dynamics 365 to sync Transaction History with. To enable this feature we ship a custom entity Sales Transaction with Dynamics 365. In this custom entity there is one way sync of Transaction History (Estimate, Credit Memo and Invoice). This is done from Dynamics CRM to QuickBooks for one-way one-time transaction. However, at any point of time this data can be altered manually.
Tax Calculation
With QuickBooks integration right within CRM there is a provision to calculate tax for Quote, Order and Invoice right within CRM. Thus, a user doesn't have to go to QuickBooks every time they want to fetch taxes.
Aging History
With QuickBooks integration with Dynamics 365 CRM the aging history is recorded in the Accounts and Contacts. This implies that there is a record of for how long the invoices have been unpaid for. This is created when invoices have already been generated.
Real-time Synchronization
At any point in time there is real-time synchronization of data from Dynamics 365 to Intuit QuickBooks. It implies, as soon there is some update of data in Dynamics 365 it is immediately reflected in Intuit QuickBooks.
Multiple QuickBooks Companies
For a single instance of Dynamics 365 there can be multiple QuickBooks companies. This means that for a single Dynamics 365 organization there can be multiple QuickBooks companies linked with it.
Azure Hosted
Being a cloud-based solution InoLink offers secure syncing of companies with Dynamics 365.
Thus, you have seen how with Intuit QuickBooks integration accounting becomes so easy for the Dynamics 365 CRM user. For a 1:1 demo on Inolink or any our accounting related apps for your Dynamics 365 CRM, contact us at crm@inogic.com
You can also download the solution for a free trial of 15 days from our Website or Microsoft AppSource.
Stay Safe, Stay Indoors!