We are back to interact with you in another exciting webinar on our very own popular productivity app Lead Assignment and Distribution Automation. Each of our webinars turn out to be a raving success given the participation of our partners, peers, clients, and prospects. This webinar is another attempt to bring out to you the power of lead distribution to your team seamlessly.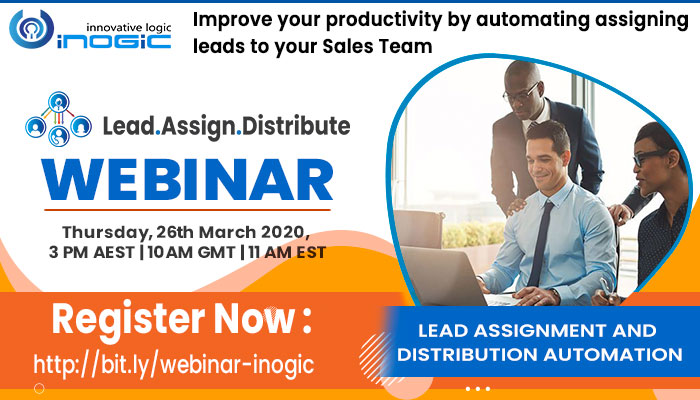 So, what does this app do?
Most of the time when the sales team is given the opportunity to cherry-pick the leads they choose the ones with the greatest revenue. This, in turn, drives the drop-out of other potential leads and therefore failing fair opportunity of lead distribution. How can this problem be solved? Simple, with the help of Lead Assignment and Distribution Automation the leads (and other OOB and custom entities) are automatically allotted to the teammates, therefore, giving equal and fair opportunity to the team members and leads by avoiding cherry-picking. This is done keeping in account the capacity of each rep and how much task they can fairly work upon.
Date & Time: 26th Mar 2020, 3PM AEST | 10AM GMT | 12 PM EST
Let's go through the features we will be walking you through in the Webinar:
Queue and assign Leads based on the Round Robin algorithm
Assign leads depending on individual user capacity
Allot pending assignments and awaiting Leads on-demand
Set Priority or Criteria while assigning Leads
Monitor and Analyze the distribution of Leads with Dashboards
Works for all OOB and Custom Entities
Our team will ensure that it becomes an exciting session for you with an in-depth knowledge transfer of how this app can provide you with the power of automatic lead assignment. Engage and exchange with our team of solution architects and subject matter experts about this robust app. And yes, we will be taking up questions by the end of the session to wash away any doubts you might have.
So, what are you waiting for, Register Now!
We are thrilled to meet and interact with you in the webinar!
The clock is ticking!