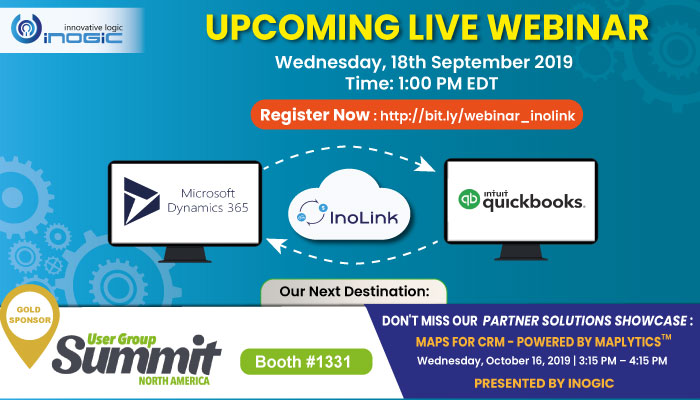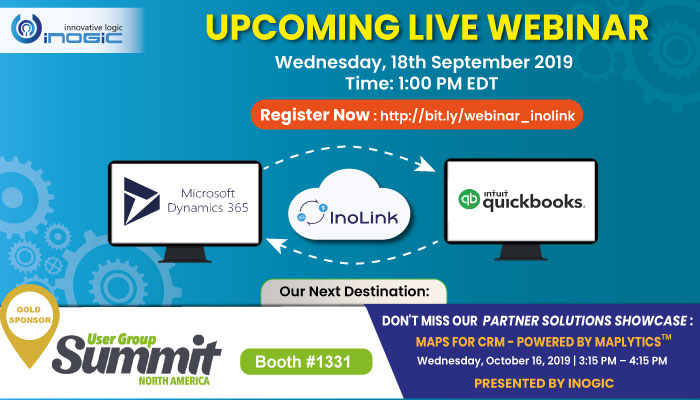 A Big Thank You – for making our last webinar on Alert4Dynamics a huge success. Your fabulous response is all we need to keep us motivated. So get ready! For we are back with another exciting and vibrant session for you. In this webinar we will focus on one our most sought after productivity app – InoLink.
Many of you are well acquainted with InoLink and the value addition it brings to your esteemed business ventures. For those of you who are yet to get acquainted with this amazing productivity app, here is a brief gist about InoLink –
InoLink is a bi-directional solution that integrates Intuit QuickBooks Online and Dynamics 365 CRM. It synchronizes Transaction history and Aging details from QuickBooks to Dynamics 365 CRM thereby providing a 360 degree view of customer information as per your requirement. Also with InoLink, a single instance of Dynamics 365 CRM can be synced with multiple QuickBooks companies.
Intriguing, isn't it?
So register now and save your seats for an exclusive session on InoLink – A Microsoft Preferred Solution available on AppSource.
WED, SEP 18, 2019 – 1 PM EDT
In this webinar we will cover the following touch points of InoLink:
Bi-Directional: Two-way sync of Accounts, Contacts, Products, and Prices
Transaction Sync: Promote Quote/Order/Invoice from Dynamics 365 to QuickBooks
Accounting History: View transaction history in Dynamics CRM
Account Balances: Customer open balances and aging details in CRM
Tax Calculation: Calculate tax for Quotes, Orders and Invoices in Dynamics 365
Reporting: View Recent Transactions, Top Customers and Open Invoices on dashboards
Security: Control access to accounting data with security roles and field level security
Join us and have an engrossing interactive session with our team of solution experts and get your queries solved live.
Be free with your feedback and suggestions, as it is your inputs that inspire us to think out of the box and takes us one step ahead.
So be quick and register now! Don't miss your opportunity for one-on-one with our team of experts.
To even the field, download and explore InoLink from our website or Microsoft AppSource and come prepared to bombard us with your questions.
Looking forward to a lively and delightful session that boggles your mind.
But this is not all.
See you soon at the upcoming CRMUG Summit 2019 (Booth#1331), between October 15 – 18 to be held at Gaylord Palms Resort, Florida.
Until then Adios!