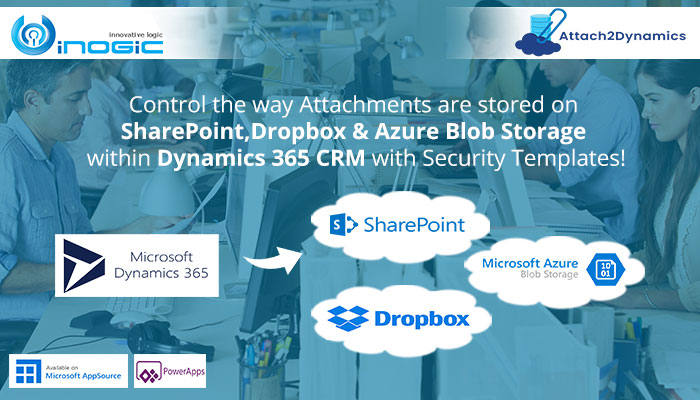 Attach2Dynamics – a Microsoft Preferred Solution – has certainly brought about efficient storage and management of Dynamics 365 CRM attachments in all three cloud storages i.e. SharePoint, Dropbox and Azure Blob Storage. It smartly caters to each and every need related to attachment management in Dynamics 365 CRM. Thus, in a short period of time Attach2Dynmaics has become one of our most sought after productivity apps.
What can we say? Its amazing and distinct features combined with user friendly UI makes it a must-have app for Dynamics 365 CRM users.
So lets have a look at one of its amazing and latest feature – Security Templates.
What is Security Templates?
With Security Templates you can manage user's access on various Attach2Dynamics actions such as Upload, Download, Email, View Files, Delete, Create Folder, Copy a Link and Rename. In simple terms, you can give/withdraw permission on usage of Attach2Dynamics actions by Dynamics 365 CRM users with the help of Security Templates.
Now, let's consider a scenario to understand the functioning of this unique feature of Attach2Dynamics.
Steve is the head of Sales Team at Sunshine Automobiles – a car dealership dealing in both New and Used cars sales and services. His sales team consisted of four members – one senior Sales Supervisor and three Sales Assistants. These three sales assistants handled clients for both new and used-car sales simultaneously. Now as the dealership uses Dynamics 365 CRM, all the Notes and Email attachments related to Quotes, Opportunities, etc. are stored and managed in cloud storages with the help of Attach2Dynamics. However, there were incidents where by mistake an important quote was deleted by one of the sales assistants and another sales assistant mixed up customer names and created folder with wrong Contact name and as such. This led to complications where quite an amount of time and effort were wasted rectifying the mistakes. In order to avoid such unwanted complications in future Steve decided to restrict access on Attach2Dynamics actions given to all of his sales assistants. He decided to grant only nominal access to sales assistants i.e. upload, download or view files. On the other hand, for senior Sales Supervisor he decided to maintain access to all Attach2Dynamics actions in Dynamics 365 CRM.
So, how will he achieve it?
Here is where the unique feature of Attach2Dynamics – Security Templates – comes in. With the help of Security Templates Steve can easily segregate and grant permissions on Attach2Dynamics actions for each team member as per his convenience.
Now let's see how it is done.
First, go to Attach2Dynamics→Security Templates→New.
Next, name the template then select the connector to the cloud storage in use and click on save.
This is applicable only to the selected connector created for a particular cloud storage. In other words, if there are more than one connector then you will have to create separate Security Templates for all of them, whether it is for SharePoint or Dropbox or Azure Blob Storage.
Now, select the user to whom the security template is applicable.

Next, go to Permissions section and enable the checkboxes as per your requirement and click on save.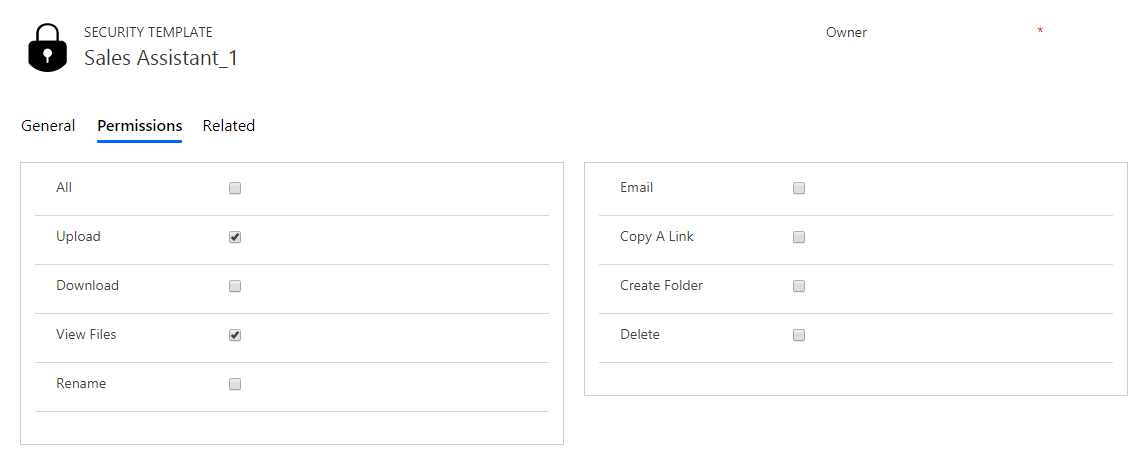 Now, if the particular user clicks on Attach2Dynamics button, then they will only have access to those actions of Attach2Dynamics which you have enabled for them.
In this way Steve was able to restrict the access of his sales assistants on Attach2Dynamics actions resulting in smooth functioning of sales activities.
Isn't it an interesting feature?
So download and explore this amazing feature of Attach2Dynamics for a free trial of 15 days from our Website or Microsoft AppSource