We are excited to announce that we are back with another informative and engaging webinar of Maplytics. Previously, we conducted a webinar on Empowering Managerial Decision Making where we discussed features like Auto Scheduling, Territory Management, Overlay, Pie charts & Column charts Heatmaps, Shape Operation, Security Template.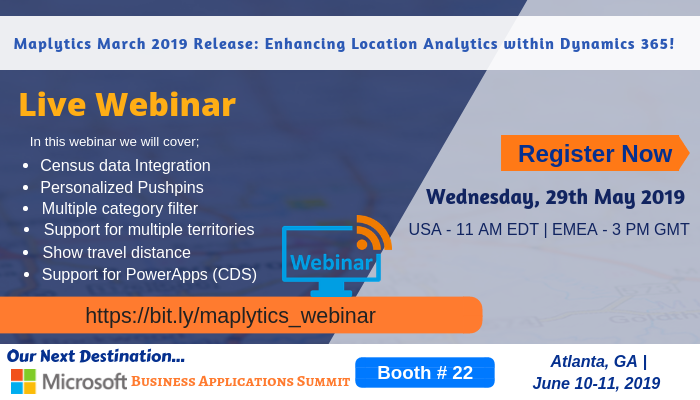 In the upcoming session, we will focus on a new March 2019 release – Enhancing Location Analytics within Dynamics 365. With this release, we have added some very significant features that will augment the analytical capabilities of users profoundly. Maplytics users will now also be able to visualize Census data and take strategic decisions for their businesses, plot categorized data for multiple entities, visualize the records with pushpins of your choice and use new features to enhance the Location Analytics within Dynamics 365 CRM.
Wed, May 29, 2019, USA – 11 AM EDT | EMEA – 3 PM GMT
In this webinar, we will cover the following touch points:
Census data Integration – Plot Census Data as an Overlay on map to view how demography is performing.
Bring your own icons – Define the pushpins you want for categories and views.
Multiple category filter – Visualize the categorized data for more than one entity.
Support for multiple territories – Assign more than one territory to a record.
Show travel distance on the proximity search – View the shortest travel distance along with line-of-sight distance.
Support for CDS environment – Deploy Maplytics on PowerApps.
Our experts will interact with you on one on one basis and ensure that you get a clear understanding of how these features can enhance your productivity and are in alignment with your business goals.
Looking forward to a highly interesting and illuminating session.
Don't wait, Register Now!
Also, meet us at our next destination – Business Applications Summit, Booth #22, Atlanta, GA on June 10-11, 2019.
The countdown is ON!