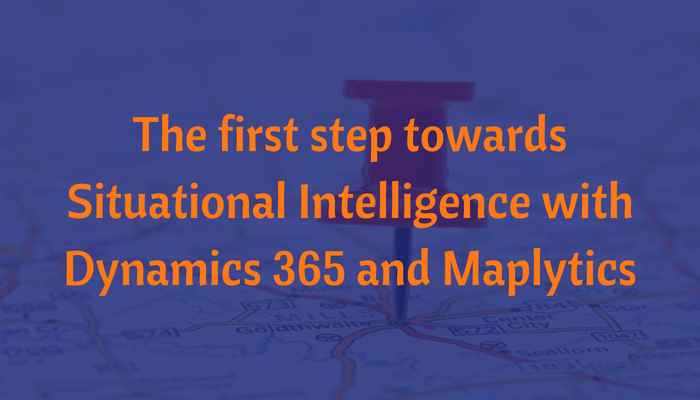 Geographic Information Systems or GIS for short has come a long way and has helped hundreds of businesses and many governments to better manage their assets and resources.
Situational Intelligence helps an organization to take into account their business data (CRM or ERP), their operational data (IoT, Sensors, etc.) and external data (weather, fire, etc.) and make data-driven decisions that can help millions of people.
However, when we talk about a Customer Relationship Management system like Microsoft Dynamics 365, we don't think of its applications in the context of Situational Intelligence.
But believe or not, it plays a crucial role in Situational Awareness for an organization and let us understand how.
Organizations use Dynamics 365 to store their important enterprise data
With the amount of enterprise data that is generated every year, it is crucial for an organization to store and manage all of that information at a central location.
A robust system like Microsoft Dynamics 365 that serves as a preferred CRM and ERP systems for many organizations and helps them to collect, analyze and manage their data efficiently and reliably.
Now, for Dynamics 365 systems to be ready for use in Situational Intelligence context, it is important for the data to be geographically correct, otherwise, the whole purpose of situational awareness becomes redundant!
The importance of Geo-analytics and Connected IoT
Geo-analytical applications for Dynamics 365 like Maplytics that integrates Bing Maps with Dynamics CRM, proves to be a useful tool to understand and analyze the locational or geographical aspect of Dynamics CRM data.
Moreover, Maplytics also allow an organization to improve the quality of the locational component of the data by providing insights about the geocoded data, geocoding confidence rating and allowing the organization to further modify the data to improve the accuracy which is critical in situational awareness scenarios.
Also, with the Connected Field Service that integrates with the Azure IoT data, getting the operational data within Dynamics CRM, taking quick actions based on that data and schedule resources accordingly, not just saves a lot of time and resources but also further prepare the CRM system for Situational Intelligence application becomes even easier.
The Future of Situational Awareness with Dynamics 365 and Maplytics
As the technology advances, both Dynamics 365 and Maplytics will get better and would allow users to work with external data like weather information, census data, natural disaster information and more. Also, as IoT becomes more mainstream, the integration of IoT data and features specific to IoT scenarios will be a good addition to both Dynamics 365 and Maplytics.
For now, the future looks bright! What are your thoughts?
Maplytics is a leading geo-analytical app for Dynamics 365 and is one of the first mapping solutions to be Certified for Microsoft Dynamics 365 (CfMD). Maplytics provides powerful map visualization and routing capabilities within Dynamics 365 to provide insightful location-based business insights. By using the powerful feature of Maplytics like Appointment Planner, Route Optimization, Proximity Search based on Distance and Time, Concentric Proximity Search based on Distance, Along the Route Search, Analytical Dashboards, and Territory Mapping & Management, an organization can drive better sales, improve business processes and engage right customers at the right time.
Get your free TRIAL today from our Website or Microsoft AppSource!
Happy Mapping!