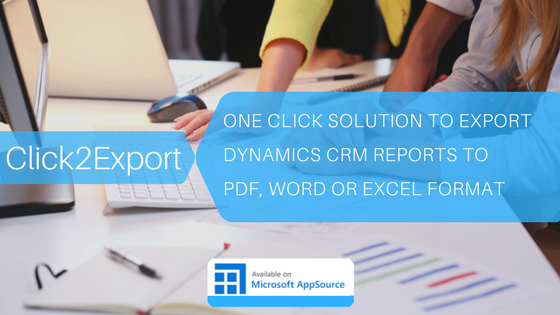 Microsoft AppSource is the single destination for business users to find and try line-of-business SaaS apps. Apps available on AppSource work with Dynamics 365, Power BI, Cortana Intelligence and Office 365. Productivity add-ons from Inogic for Dynamics 365 are already available on AppSource. Today we are pleased to share that we are adding yet another solution, Click2Export, to the family of productivity add-ons for Dynamics 365 on Microsoft AppSource.
Click2Export is a productivity add-on for Dynamics 365 that allow users to export Dynamics CRM report to PDF, MS Word or MS Excel format.
With Click2Export Dynamics CRM users can also;
Download the exported reports, attach it to a note in Dynamics 365/CRM or even attach it to an email
Configure, export and attach both Individuals as well as Organizational reports
Create multiple templates for a single report with different names
Bulk export reports and attachments
Choose whether to export combined report for all the selected records or one report per selected record
To know how you can try Click2Export and other productivity add-ons from AppSource.
See Click2Export in action:
Quickly export and share Dynamics 365/CRM reports in your preferred format with Click2Export, and reduce the time spent on preparing reports from Dynamics CRM.
Try Click2Export from the Website or Microsoft AppSource today to boost your productivity!