Introduction:
Sometimes you get frustrated seeing the below confirmation dialog which pops up when you navigate to the "Documents" section of a particular record of a SharePoint enabled entity for which you want to create a folder in SharePoint. It can be annoying to see the pop-up while SharePoint folder creation.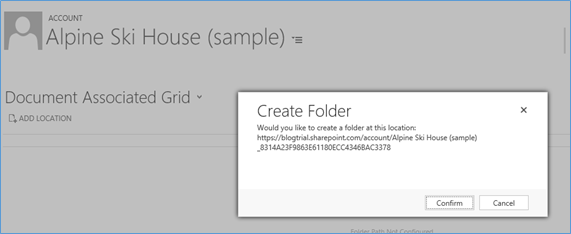 With Dynamics CRM 2016, you can now set the above Pop-up setting to off so that the folder is created automatically without getting the above confirmation pop-up. The below mentioned steps will help you to auto create SharePoint folder.
Follow the below steps:
Go to Settings >> Document Management
Open Document Management Settings window. You will see below screen:
After entering the SharePoint Site URL, click Next. You will get the below window:
As you can see above, there is an option "Automatically create folders" which you need to check in order to switch off the confirmation pop-up mentioned earlier.
So now if you navigate to the any record, no pop-up will pop and the folder will be created in SharePoint as you can see below:    

Conclusion:
This blog discusses about a method to avoid create folder pop-ups in Dynamics CRM 2016. If the pop-up has irritated you in the past then you can use this setting with Dynamics CRM 2016 for auto SharePoint folder creation.
Unlock the locational intelligence from within Dynamics CRM – Maplytics August Release coming soon!