This is Part 2 of our Maplytics solution series, which allows you to integrate your Dynamics CRM with Bing Maps for all entities. In Part 1, we saw replies to some of common FAQ's on the solution. Today let's see some features and how adding this solution to your CRM can help you analyze your business in a much better way and help you provide Smart Customer Service. We use maps for our daily use, so why not for business.
Maplytics is used across all industries and by all roles. Ofcoz the two most common people in your organization who would use this often is the Manager and the Salesperson. Lets see what one of them has to say..
Manager – We never thought Maps could be so useful until we started using them for our business. Its now become more like an analytical tool for me. Our business is spread across cities and this helps us to keep a tab on things like service requests in an area, complaints from any area or maybe whereabouts of the daily schedule planned by my service technicians. Its all there now right in front of me in my crm. I love the heat maps in it.
Salesperson – Planning meetings is no longer a challenge. Now we can plot any entity on Bing Map from within Microsoft Dynamics CRM and make plans, print and go. The Proximity search feature in Maplytics allows us to search records within a given radius of a location. And yes, we can now find nearest meeting spots like a Starbucks or an airport quickly.
A little more about why we innovated Maplytics and its features:-
Product Page – http://inogic.com/Product/76/Integrations/Maplytics
Video – https://www.youtube.com/watch?v=UgWslSIv5MM
Why Maplytics
Mapping is like changing the game in CRM. Mapping inside of Dynamics CRM goes a step further by showing your users the way to make better business decisions. From simply having a better understanding of your data to making better, more-informed business decisions – maps have the power to transform your business.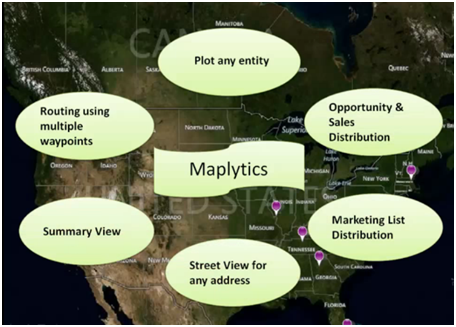 Maplytics Features:
1. Plot any entity: Maplytics supports for all entities in Dynamics CRM. User can plot any entity on Bing Map from within Microsoft Dynamics CRM.
2. Save geographical search: Maplytics allows user to save geographical search results. The search results can be saved as static personal views in CRM.
3. Heat Maps: Maplytics also support Heat Maps. Heat maps helps to understand the concentration of your biggest accounts, opportunity, hot leads or any other entity.
4. Color coding of pushpins: With Maplytics user can color code pushpins based on configurable categorization in Microsoft Dynamics CRM.
5. Search records: Maplytics provides the ability to search records within a given radius of a location.
6. Print and Export search results: Maplytics allows to print or export search results to an external file.
Want to know more, why not just see a live demo or opt in for our 15 days fully functional trial. Email us on crm@inogic.com with your CRM version.