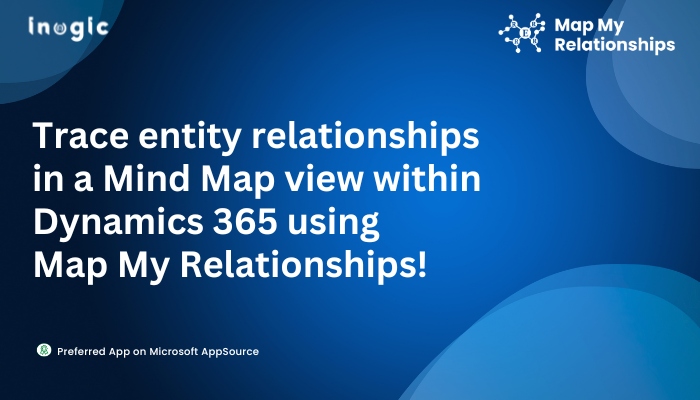 Data visualization plays a crucial role in modern business operations, aiding data-driven decision-making processes. Companies worldwide are increasingly adopting visualization tools to simplify complex data and present it as actionable insights to key stakeholders.
In this blog, we'll explore how integrating data visualization tools with Microsoft Dynamics 365 can boost productivity and enhance business operations.
Let's imagine there's a sales manager named John who talks to many people from different companies all over the country. Each person he talks to usually knows someone in another state. However, sometimes, to find a particular contact from a particular state, he has to painstakingly navigate through multiple contact records in Microsoft Dynamics 365. This can be quite a hassle and takes up a lot of his time.
Only if there was a way he could trace all the relationships easily.
Microsoft Dynamics 365 does not have built-in functionality to trace relationships and connections. Although you can connect the organizational hierarchy, it wouldn't help with John's use case.
What John needs is Map My Relationships.
Map My Relationships is a Microsoft AppSource preferred app by Inogic. It provides a simplified mind map with a 360-degree view of contacts, accounts, and any CRM entity (OOB or Custom) relationships in a single view.
As you can see in the below screenshot, Map My Relationships app allows John to visualize all the contact record relationships in a single mind map view. This can help John save time by not having to navigate through multiple contact records and find related records one by one.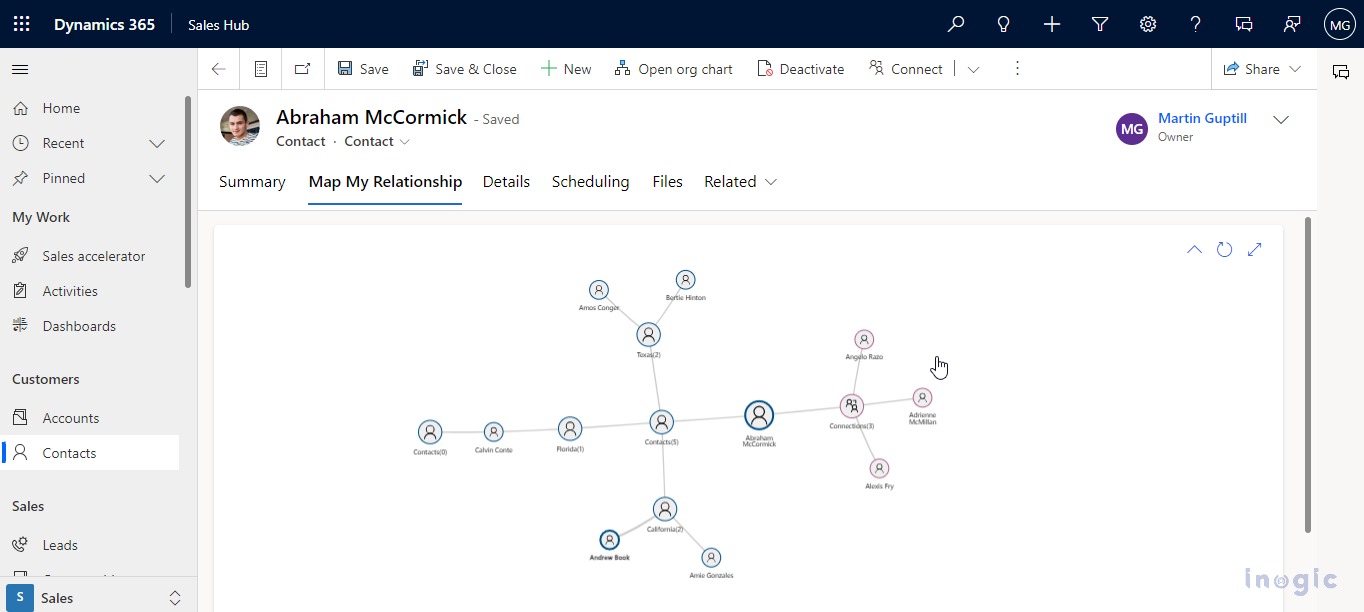 This consolidated view accelerates data interpretation and analysis, aiding him in making informed decisions efficiently. It enhances customer engagement, helps identify cross-selling opportunities, and saves time.
John can also group and visualize contact records based on the states they belong to in the mind map view. For example, if John wants to view contacts that are from California, then by using the grouping feature, he can find contacts from California with just a quick glance on the mind map, thereby helping him save time.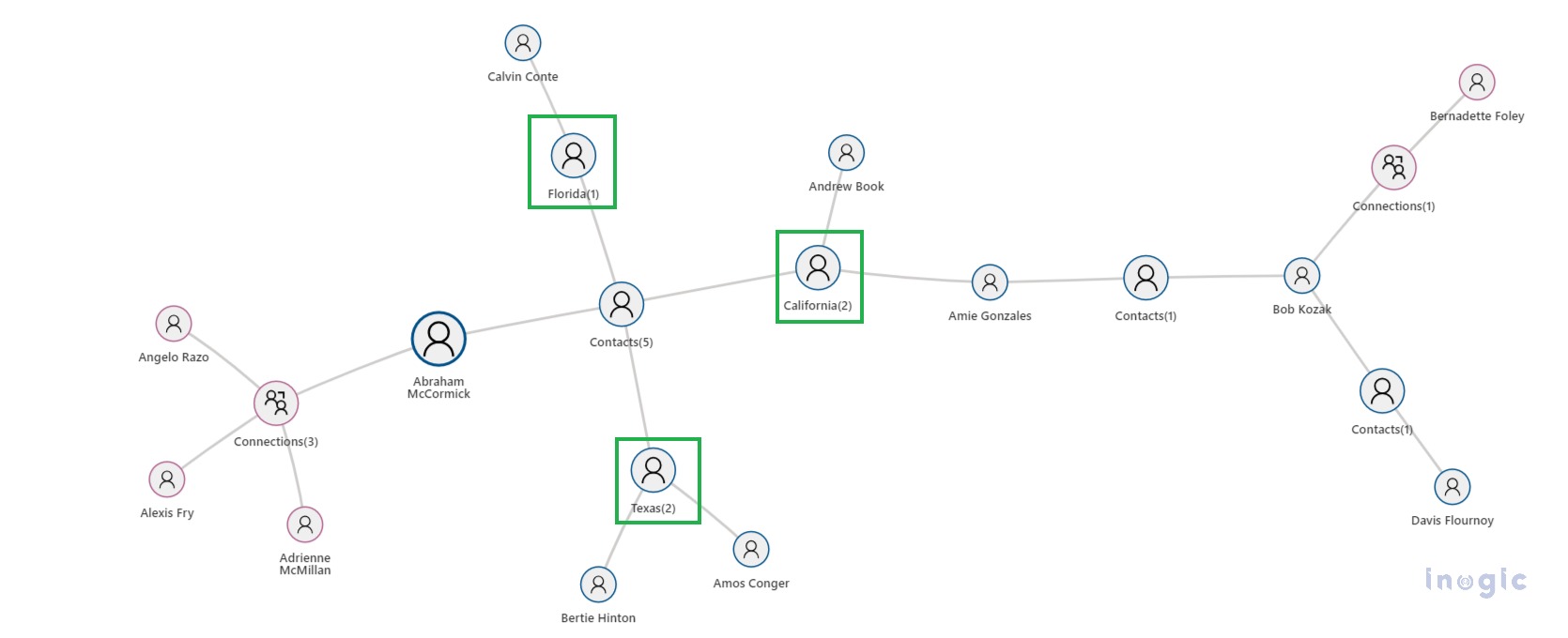 As shown in the below image, he could drill down to N-level contact record relationships within the relationship view to see associated records in the California group.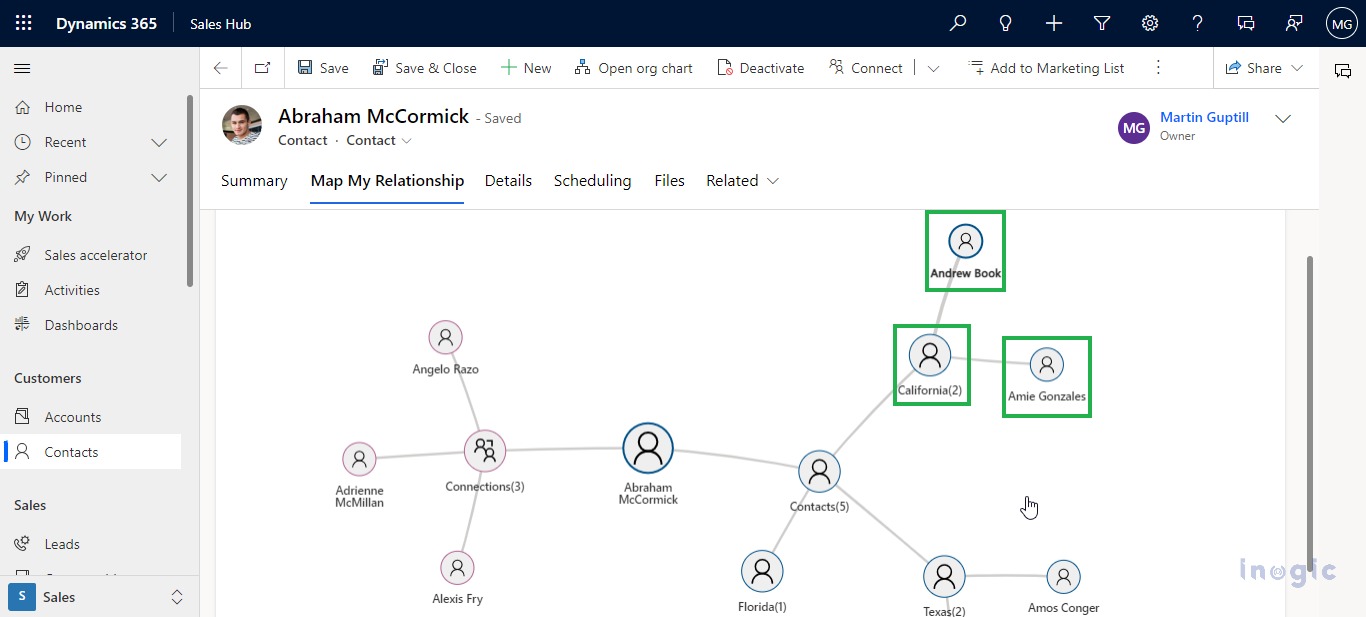 This provides better clarity of how contacts are connected to each other and leaves no room for any relationships to be left out of the picture.
John can also get a quick summary of crucial contact record details by simply hovering over the respective contact record node on the mind map view. For example, if John wants to know the contact number and email of a record, he can just hover over the contact record node on the mind map view, eliminating the need to switch between multiple entities.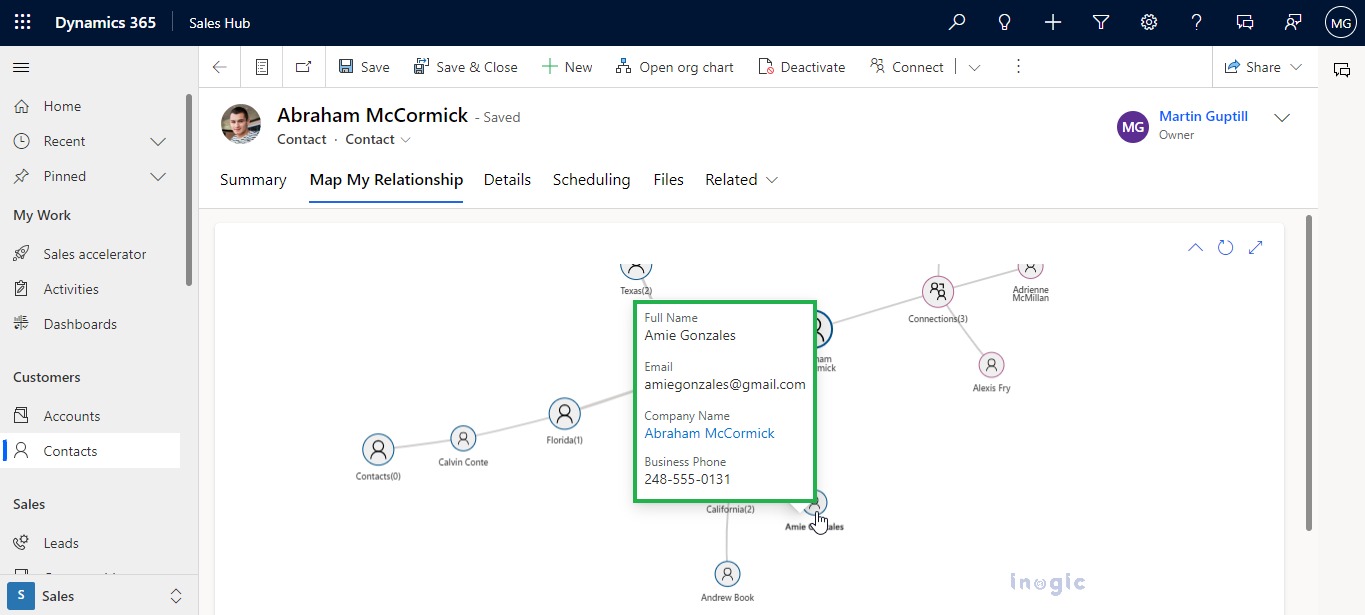 The app can also assist John in performing quick actions like adding tasks, scheduling appointments, sending an email, etc., directly from the mind map view itself. If John wants to send an email to a person in Texas, he can do so by using the perform quick actions feature to navigate to the contact record node in the Texas group, clicking on the contact record node, and then clicking on the 'Email' button.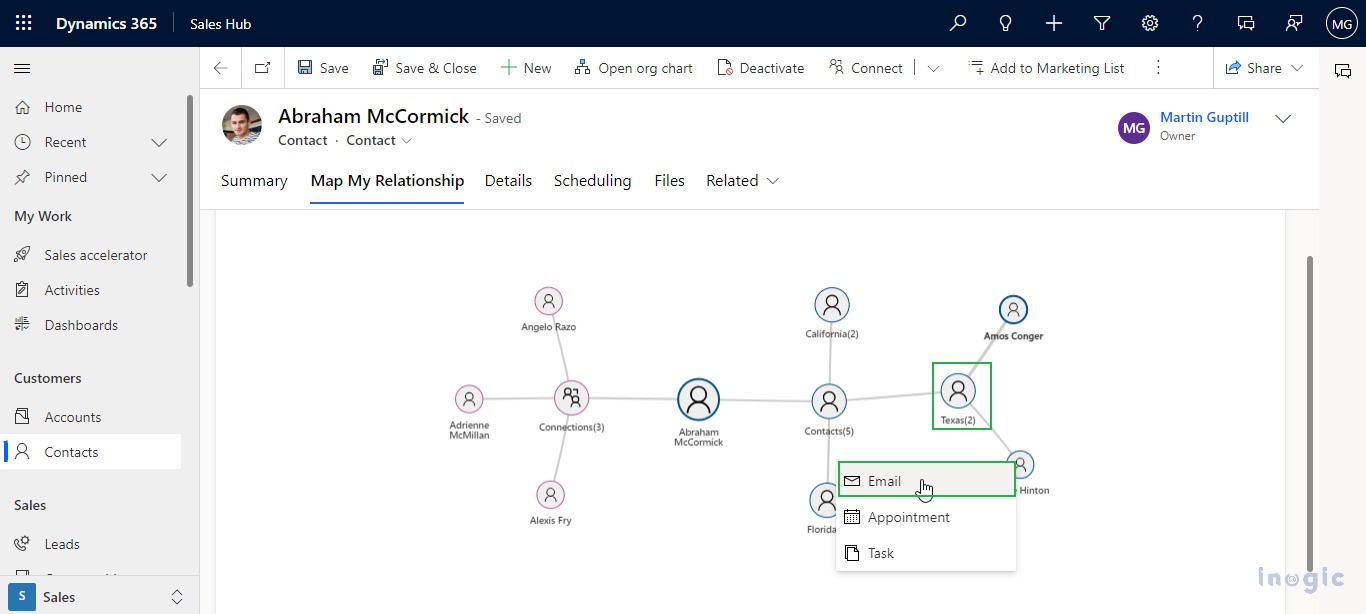 With all these features, sales managers like John will be able to have a 360-degree view of record relationships, navigate through relationships across multiple Microsoft Dynamics 365 records, perform quick activities, and know crucial details about required contacts without having to waste time on unnecessary navigation to find the important contacts from various states.
Map My Relationships offers a comprehensive range of features and much more, enabling you to effortlessly access complete data at a glance and conduct efficient and systematic record analysis. It comes as no surprise that it continues to be among our favourite data visualization apps for Microsoft CRM.
Download Map My Relationships for a 15-day free trial from our website or Microsoft AppSource.
Should you desire a personalized demonstration of the application or require further information, please do not hesitate to reach out to us at crm@inogic.com.