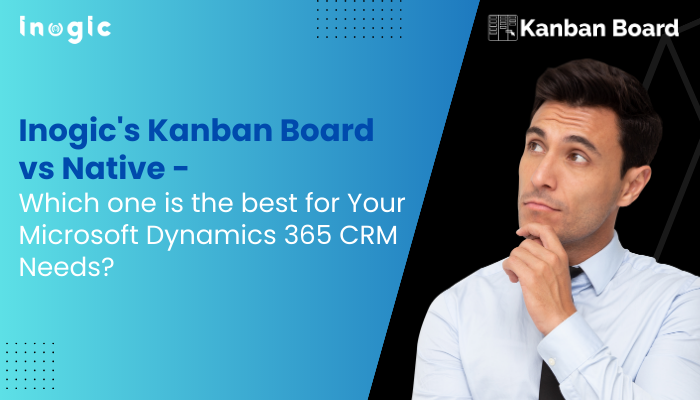 In the realm of task management and customer relationship management (CRM), the Kanban method has gained immense popularity for its visual and efficient approach.
Microsoft Dynamics 365 CRM natively available Kanban view is a feature that allows you to see and manage your records in a card-based layout. You can use the Kanban view for activities and opportunities, and switch between different views based on status or business process flow stage.
Additionally, Inogic, a prominent Microsoft Global ISV for Dynamics 365 CRM and Power Platform, presents its own Kanban Board for Microsoft Dynamics 365 CRM, a Preferred App on Microsoft AppSource.
In this comprehensive comparison article, we will delve into the features, benefits, and distinctive qualities of both – the natively available Kanban view and the Kanban Board offered by Inogic and analyze why you should opt for an upgrade to Kanban Board by Inogic!
Understanding Kanban
Before we dive into the comparison, let's have a brief understanding of the Kanban method. Originating from the manufacturing sector, Kanban has evolved into a widely adopted visual management system for teams across various industries. It utilizes boards with cards representing tasks, which move through different stages of the workflow, offering teams a clear and transparent view of their work progress.
Natively Available Kanban in Microsoft Dynamics 365 CRM
Microsoft Dynamics 365 CRM incorporates a built-in Kanban view, empowering users to effortlessly manage their tasks and streamline workflows within the CRM environment.
Let's explore the key features of this native Kanban view:
User-Friendly Interface
The natively available Kanban view in Dynamics 365 CRM boasts an intuitive and user-friendly interface. With drag-and-drop functionality, users can easily move cards representing tasks from one stage to another, updating the task status seamlessly.
Integration with CRM Data
As an integral part of Dynamics 365 CRM, the native Kanban view seamlessly integrates with other CRM features, such as accounts, contacts, opportunities, and more. This integration fosters cohesion and enhances collaboration across different CRM aspects.
Customization Options
To cater to diverse business needs, the Kanban view in Microsoft Dynamics 365 CRM allows for some level of customization. Users can add custom fields, labels, and filters to tailor the view to their specific workflow. However, Kanban view customization in Microsoft Dynamics 365 CRM is available for selected entities such as Opportunities, Cases, and Custom Entities that you configure within your CRM. The availability of Kanban view customization can also vary based on your CRM version and configuration.
Advanced Kanban Board by Inogic
Inogic, developer of 15+ apps offers an advanced version of a Kanban Board a Preferred app on Microsoft AppSource that seamlessly integrates with Microsoft Dynamics 365 CRM.
Here are the distinctive features that sets it apart:
Advanced Customization Capabilities
Inogic's Kanban Board provides extensive customization options, allowing users to define custom fields, colors, and workflows tailored precisely to their unique business processes. This flexibility empowers organizations to align the board with their specific requirements. Moreover, Kanban Board can be customized within various CRM entities – be OOB or Custom Entities.
Seamless Integration
Inogic's Kanban Board seamlessly integrates within your CRM environment, functioning harmoniously with existing CRM modules. This integration enables users to leverage their CRM investments fully while enhancing overall efficiency.
Context Aware
It integrates with Dynamics 365 CRM and responds to all native ribbon actions and quick search functions. You can also use it with Power Apps and Dataverse environments.
Transform Traditional Kanban View
It easily arranges and classifies records of any entity type, configure fields without hassle, establish categories, swiftly access information, and efficiently categorize data. This empowers you to monitor project progress, gaining an overview of tasks and workflows.
Efficient Drag & Drop
The Kanban Board functions as a dynamic workflow management system, enhancing visualization, efficiency, and agility. Employ intuitive drag-and-drop actions to swiftly update category values by moving cards across lanes and rows. Effortlessly manage opportunities, cases, leads, projects, and more by placing them in interactive pipelines, grouped according to stages.
Simplified Currency Analysis
Simplify currency data analysis using the Kanban Board's aggregated fields. Numerical values are displayed in lane and row headers, allowing customization of aggregate numbers, decimals, floating points, or currency types (e.g., SUM, MAX, MIN, AVG). Also, affix an aggregated value to a specific lane or row header, with categories such as Budget Amount, Exchange Rate, and Actual Revenue.
Business Process Flow Management in Kanban View
Leverage the support for Business Process Flow (BPF) within the Kanban Board. Configure any entity to follow a Business Process Flow and seamlessly organize it within the Kanban view. When applied to the Opportunity Business Process Flow, lanes correspond to BPF stages: Qualify, Develop, Propose, and Close.
Enhanced Row Grouping
Amplify sorting and management capabilities using row grouping within the Kanban View. Sort, filter, and group data based on various field values, and fluidly move records from one row to another, simultaneously updating rows and lanes.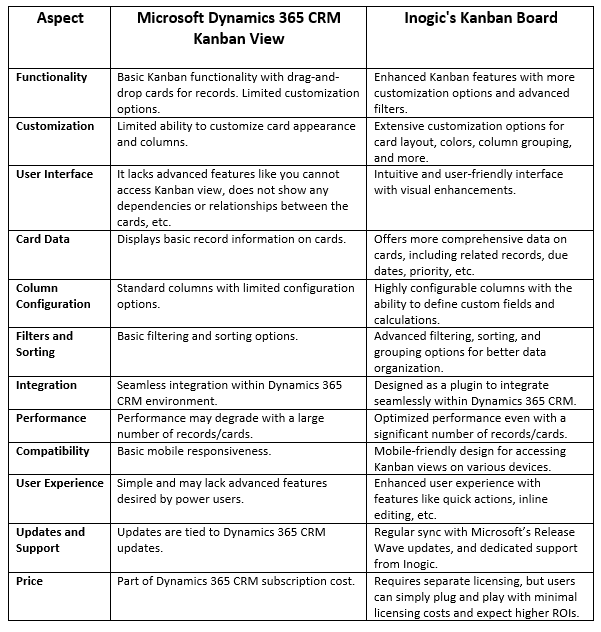 Start your Inogic's Kanban Board free trial today!
Sign up for a 15 days' free trial on Inogic's Kanban Board and experience the difference yourself!
For more details on Inogic Kanban Board, visit our website, checkout our online help docs, watch this video or simply send us an email on crm@inogic.com to book a personalized demo.