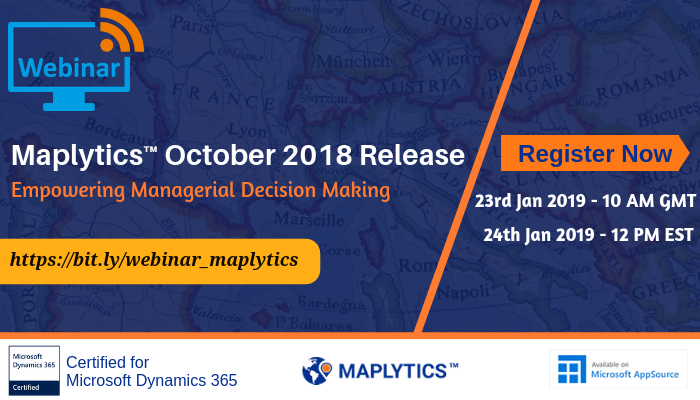 With the vision of empowering managerial abilities, Maplytics October 2018 Release has been an epitome of success! Our heartiest appreciation goes out to you, our Partners and Maplytics users who have been our constant companion all along the mapping journey.
To have a wonderful interactive session and get to know you better, we are conducting a webinar especially for you, our Maplytics users, Partners and peers. It will be an exciting session that will give you insight in what the recent release aspires to do.
23rd January 2019 – 10 AM GMT

24th January 2019 – 12 PM EST
With October release, we have tried to incorporate features that further strengthen the locational intelligence power of our productivity tool within Dynamics 365 CRM. Maplytics now enhances the analytical power of managers and takes their decision making ability miles ahead. Managers are now in a position to make powerful analysis of their Dynamics 365 CRM data, moderate the access level of users, and strategize an automated work schedule for field reps.
As Sales, Marketing and Service are the significant pillars of a business process, we have focused on all these modules dedicatedly to ensure none of the customer satisfaction metrics go unattended using Maplytics.
In this webinar there will be a walkthrough of the latest and enhanced features of Maplytics like:
Isn't this thrilling? Let's get you acquainted better with Maplytics. We can't wait to meet you and have an engaging session together!
The countdown is ON!