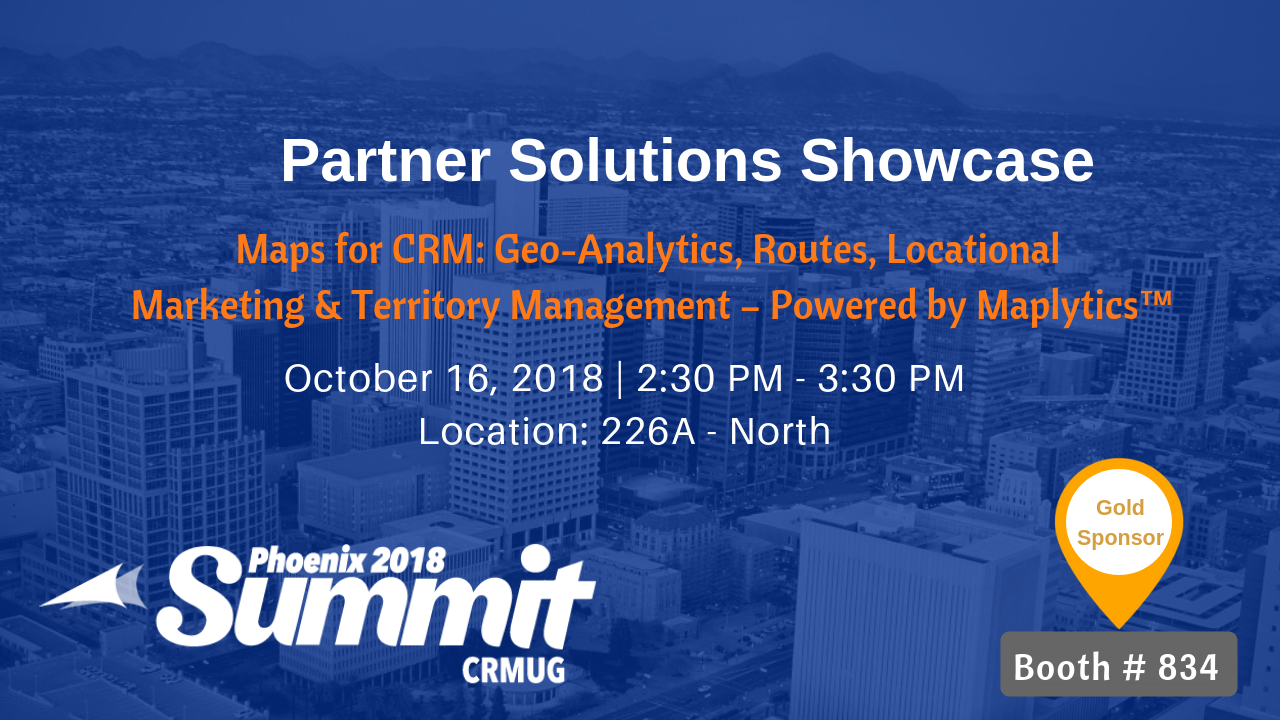 The wait is over! We have arrived at Phoenix for the largest gathering of Microsoft Dynamics 365 peers, CRMUG Summit and can't wait to meet our closest friends and solution experts from across the globe at our Booth # 834.
Like every year this year too, we will be showcasing new release of our Dynamics 365 CRM App at our Partner Solutions Showcase session. We are very excited to conduct an engaging session to help you to understand how Maplytics is transforming businesses across the globe. Join the session to get in-depth demonstration of utilizing the mapping capabilities of Maps within Dynamics 365 CRM.  To add this insightful session to your calendar, login & mark our session as a favorite now or block your calendar!
Maps for CRM: Geo-Analytics, Routes, Locational Marketing & Territory Management
Presented by Maplytics™
Tuesday, October 16, 2018 | 2:30 PM – 3:30 PM | Location: 226A – North
What is the session all about?
Maplytics™ is one of the first geo-analytical mapping solutions to be certified for Microsoft Dynamics (CfMD) by meeting Microsoft Corp.'s highest standard for partner-developed software. At every stage we have been continuously working closely with our Partners and End users how this Geo-Analytics app can be catered to their businesses and how new features can be crafted for all levels in the organization.
In this session of Maplytics we will be showcasing our October 2018 release which is released with new features like Auto Scheduling, Territory Management, Enhanced Heat Maps with Pie Chart & Column chart, Security Template, Overlay Layer, Shape Operations, and many more. Maplytics also helps you with many other features such as increase salesperson productivity through optimized Routing, distribution and planning of appointments, defining territories and territory alignment based on location, enhance localized Digital Marketing using demographic and geographical data in marketing campaigns, increase the responsiveness of services team through location planning and mobility and much more. If you are already using Maplytics, Join us to get ultimate exposure to all these recently added as well as new upcoming features & enhancements.
Engage with us at D365UG/CRMUG Summit, Booth #834
Also, we will would like to invite you at our booth for overview of new release of our Dynamics 365 solutions: Maplytics & Click2Export.
You can find us at Booth # 834 with our innovative solution offerings for Dynamics 365/CRM like Maplytics™ (CRM + Maps), InoLink (QuickBooks + CRM), Click2Export, Click2Clone and User Adoption Monitor that will help you to get the most out of your Dynamics CRM implementation!
Don't forget to stop by our booth #834! Because we are counting you in!