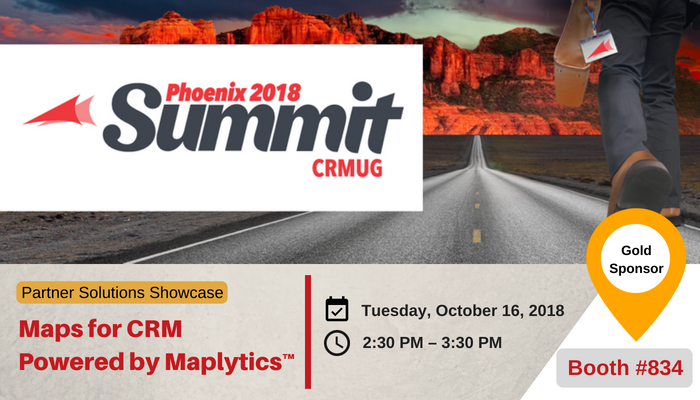 We are ready for one of the biggest gatherings of our Dynamics 365 peers, CRMUG Summit Phoenix during October 15-18 at Phoenix Convention Center.  CRMUG Summit is the independent largest user group for Dynamics CRM 365 users worldwide. This year about 200 + sessions along with more than 32 Partner Solution Showcase would be presented at Summit Phoenix.
Like every year Inogic would be exhibiting as a Gold Sponsor at Booth # 834 with its range of Dynamics 365 CRM Innovations with you as we squeeze every last bit of functionality out of the product and get you the ROI you want.
This is not it, we have one more great news for you!
Just like last year even this year Inogic and Maplytics would be conducting a Partner Solutions Showcase at the Phoenix Summit. Our CEO Roohi Shaikh will share insights on how businesses can benefit from the power of geo-analytics within Microsoft Dynamics 365!
To add this insightful session to your calendar, login & mark our session as a favorite now!
Maps for CRM: Geo-Analytics, Routes, Locational Marketing & Territory Management – Presented by Maplytics™
Tuesday, October 16, 2018
2:30 PM – 3:30 PM
Use our exclusive coupon code: PRPInogic to get 10% off on your registration! Register now by clicking here.
What is the session all about?
Maplytics a Microsoft Certified app for Dynamics 365 has been evolving and we have been adding new features in every release and in our last release we have added new feature & enhancements like concentric proximity search, along the route search, Route Redirect and turn by turn direction, heat map enhancements. Maplytics also helps you with many other features such as increase salesperson productivity through optimized Routing, distribution and planning of appointments, defining territories and territory alignment based on location, enhance localized Digital Marketing using demographic and geographical data in marketing campaigns, increase the responsiveness of services team through location planning and mobility and many more. If you are already using Maplytics, Join us to get ultimate exposure to all these recently added as well as new upcoming new features & enhancements.
For blocking the date and time from your schedule, hurry up, register and book our session as favorite. For more details you can mail us at crm@inogic.com; we would be happy to schedule a meeting or meet us at our booth #834!