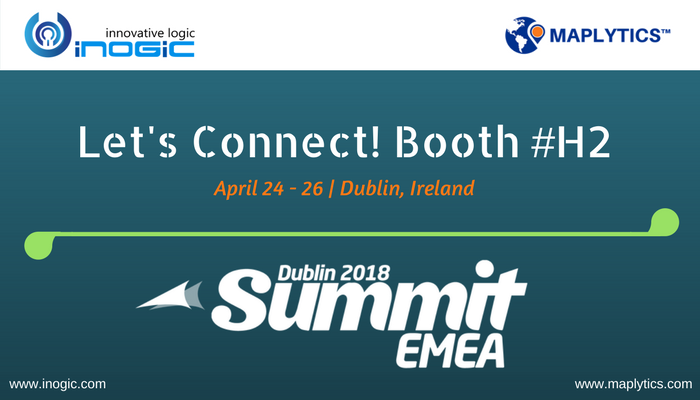 In our last update 2.0, we saw 3 more reasons to connect with your Dynamics 365 Friends At Dublin In April! We are now just a few days away from Summit EMEA and getting super excited to be a part of the Premier Event for the very first time as a Silver Sponsor. Summit EMEA is sure to be a not to miss event where we get a chance to communicate with industry experts, gain knowledge and many networking opportunities.
If you have not planned yet, just few days left register now and join your Dynamics 365, @axug & @CRMUG user group community 24-26 April 2018 in Dublin https://www.summitemea.com/attend/pricing. Save 10% off on your registration when you use our exclusive coupon code: PRPInogic.

As we saw in our last post, along with conference, very helpful sessions, there are many other side events that will help us to get most out of Summit EMEA. But we have one more reason for you to join us at Summit EMEA.
We will be unveiling the latest release of our flagship product Maplytics!
Maplytics™ is a leading Certified for Microsoft Dynamics 365 (CfMD) geo-analytical mapping app. Maplytics empowers users across verticals with the power of Geographical Data Visualization, Optimized Routing, Appointment Planning, Proximity Search, Heat Maps, and Territory Management to drive better sales, improve business processes and engage right customers at the right time.
Maplytics is available for Microsoft Dynamics versions CRM 2013 and above and supports all deployment models of CRM On-Premise (IFD as well), CRM Online and Partner-hosted.
Some of the highlights of the new version include;
Route redirect from the native Dynamics 365 app for mobile and tablets to the Google Maps app.
Finding records along the route.
Merged route and plot view.
Concentric Proximity Search.
Heat Map enhancements like Summary Card, ability to customize the color scale on the heat map.
Driving Instructions Workflow.
Plotting saved templates on the entity form.
Mobile enhancements like Category, By Drawing, By Territory, Save and Plot Template, Save and Plot Route.
For more details on how these new features can help you get the most value out of Dynamics 365 data, do visit us at Booth #H2.
We will also showcase our other Dynamics 365 CRM innovations including InoLink (QuickBooks integration with Dynamics CRM), Click2Export, Click2Clone and User Adoption Monitor at our Booth # H2.
We invite you to stop by our booth or schedule a meeting with our team for a walkthrough of our solutions and to learn how our experience as a leading Outsourcing and Off-shore Development Partner with unrivaled practical knowledge and expertise in development, integration, and implementation of Dynamics CRM can help you to streamline your business and achieve a high ROI.
Looking forward to meeting you at Summit EMEA!