Microsoft Dynamics 365 v9.0 brings some of the most awaited UX enhancements, extensibility, and app platform enhancements and the new Unified Interface framework that not only makes the application faster but also improves the user experience across devices.
We have been working on a comprehensive Maplytics solution for Dynamics 365 v9.0, and we are excited to announce the Maplytics release for v9.0.
With this release, our core focus was to utilize the Unified Interface framework and the capabilities it opened up for mobile and tablet client. Yes, Maplytics, your favorite Maps Integration with Dynamics CRM now supports the cool new Dynamics 365 v9 and also works within its new mobile and tablet app.

The v9.0 release brought some much needed unified interface refresh for the Dynamics 365 App for Phones and Tablets, and we are pleased to inform users that Maplytics is now available on Mobile/Tablet devices as well. Organizations can now utilize the location-based business insights from their Dynamics CRM data anywhere & anytime across multiple devices!
We have received a lot of inquiries about the mobile capabilities, and one of the most asked questions was to find nearby customers around the current GPS location of the mobile device. Manually entering the current location on the small screens of mobile devices when they were on the field was cumbersome for users and most of the time users didn't even know the exact address!
With this new release, Maplytics simplifies the process of finding the user's current location (GPS location). Now users just need to click on the current location button, and Maplytics will locate the current GPS location of the user and allow them to perform Radius Search right on their mobile devices!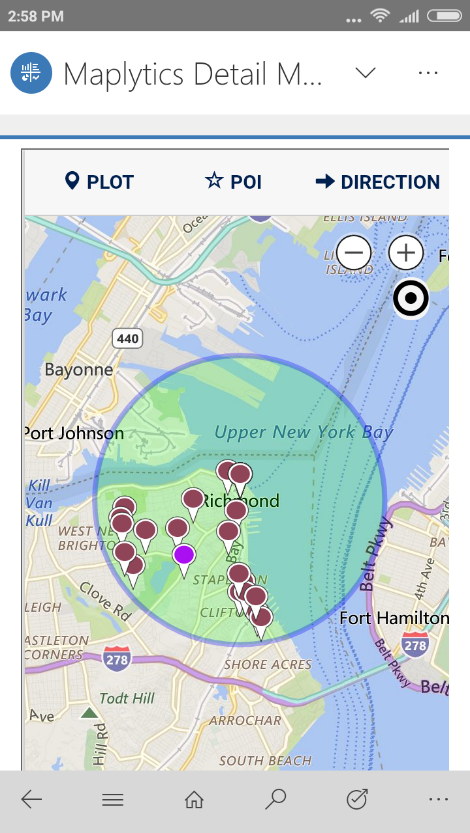 You don't need another app, Maplytics work within the new Dynamics 365 App for Phones and Tablets. The user just needs to add Maplytics Dashboards to their existing App on the Dynamics 365 UCI framework.
Evaluate now in our Demo Environment using these credentials
URL: https://mapdemov9.crm.dynamics.com
Username: williams@mapdemov9.onmicrosoft.com
Password: pass@word1
Note: Please feel free to add your own data. To access Maplytics from Dynamics 365 App for Phones and Tablets, Choose CRM Hub > Dashboard > Maplytics Detail Map.
Get started with Maplytics and be productive on the go! Download your free trial for Dynamics 365 Customer Engagement v9.0 today!