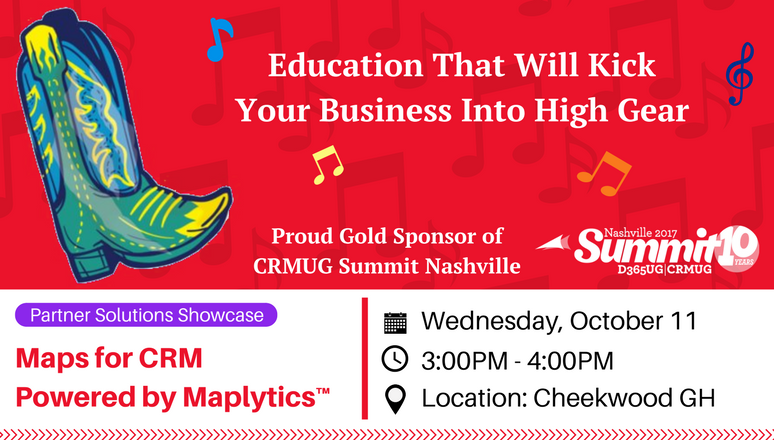 D365UG/CRMUG Summit Nashville is just around the corner and this year too Inogic and Maplytics would be exhibiting there as Gold Sponsor at Booth 724.
This year's Summit is to be held in Nashville, TN from 10-13 October 2017 and we are already excited to see what the 2017 edition of the largest gathering of Dynamics CRM community will bring. The Summit is an awesome opportunity to network and learn from the community and of course, meet with Team Inogic!
We have one more exciting update to share!
This year we are conducting a Partner Solutions Showcase at the Summit! Our CEO Roohi Shaikh and our Business Manager, Surya Ostwal will be presenting the session on how businesses can benefit from the power of geo-analytics within Microsoft Dynamics 365!
Wednesday, October 11
3:00 PM – 4:00 PM
Room: Cheekwood GH
Join the session to get in-depth demonstration of utilizing the mapping capabilities of Bing Maps within Dynamics CRM to;
Get enhanced business insights through powerful Heat Maps visualizations and Analytical Dashboards to improve organizational growth, make data-driven decisions, perform regional analysis & optimize operational efficiency.
Plan appointments to improve sales force productivity.
Create optimized routes to save time, meet more customers & close more deals.
Find nearby customers to increase touch points during each visit, schedule and manage unplanned meetings and improve efficiency.
Balance workload and potential by managing & distributing territories for effective sales force coverage.
Get visual insights for identifying areas worthy to allocate sparse resources and improve customer service & market coverage.
Understand market geography to tap into the potential of different regions by creating localized marketing campaigns & finding the best event location to increase customer participation & engagement.
To add this insightful session to your calendar, login & mark our session as a favorite now!
Write to us on crm@inogic.com; we would be happy to schedule a meeting 🙂