CRMUG Summit 2016 to be held in Tampa, FL from 11-14 October 2016 promises to be the can't-miss annual conference for Microsoft Dynamics CRM users. With a theme of "Count In. Count On", the conference is going to convey the importance of a two-way knowledge exchange at Summit. We are excited to be part of it for the first time. Join Inogic and your Microsoft Dynamics CRM peers including Microsoft MVPs, Subject Matter Experts, and Microsoft leadership at the CRMUG Summit 2016.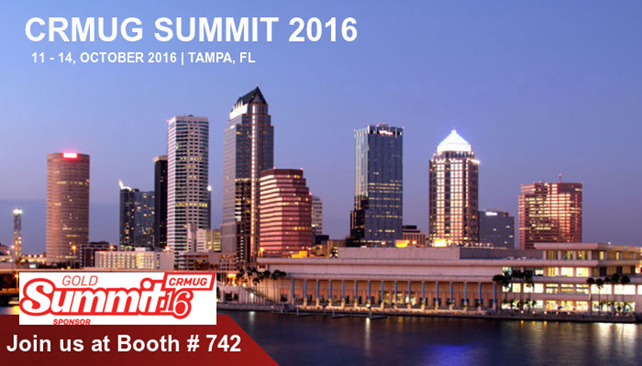 Summit Website                        Registration                                Schedule
 Key Offerings at CRMUG Summit 2016 
Gateway to learn insider knowledge from Microsoft. With the Microsoft Leadership delivering the Keynote and sharing the visionary roadmap of your favorite application.
The conference is a hub of community peers and experts providing competent training experience where users can learn and trust the knowledge exchanged. Sessions are to be delivered by CRM MVPs and Microsoft.
There are also Pre-Conference Training sessions being held from 9th Oct – 11th These are instructor-led classroom training again delivered by the most trusted and the best in the CRM community.
Partner showcase and exhibition to learn more about the ISV solutions available to enhance CRM. These solutions work on top of the CRM application and usually assist in filling up the common gaps and improve the efficiency of the users and the ROI of a CRM implementation.
Meet us at Booth #742: We will be waiting for you! 
At Inogic, our aim is to aid your organization enhancing the performance of Dynamics CRM. We have chosen to be part of CRMUG Summit 2016, which will take our aim closer to its destination. If you are going to be part of it too, do visit us at our Booth #742 to get an interaction with our flagship product Maplytics™. It is a smart Geo-analytical solution, which helps you visualize and analyze Dynamics CRM data on maps adding a geographical aspect to it. With the recently added enhancements like Territory management, Route optimization and sharing, etc. it renders an enhanced user experience.
Not just this, we also have an array of solutions to enhance the productivity of Dynamics CRM including; InoLink, Click2Export, Click2Clone, User Adoption Monitor. We also offer development services and assistance to both Partners and customer alike to aid managing of their CRM deployment.
Drop by us at Booth #742 from 11th – 14th October 2016! The Key note starts Oct 11th 2pm. See you there!