Envision 2016 was indeed a huge success! On behalf of Inogic, we hope that you have got a better feel about what we offer as you joined us at our booth (No. 1000). We also thank Microsoft team for making this flagship event special through various sessions which revolved around trends and opportunities in today's industrial segments. We hope that it was a learning opportunity for you to know how we could be productive and efficient in the connected world.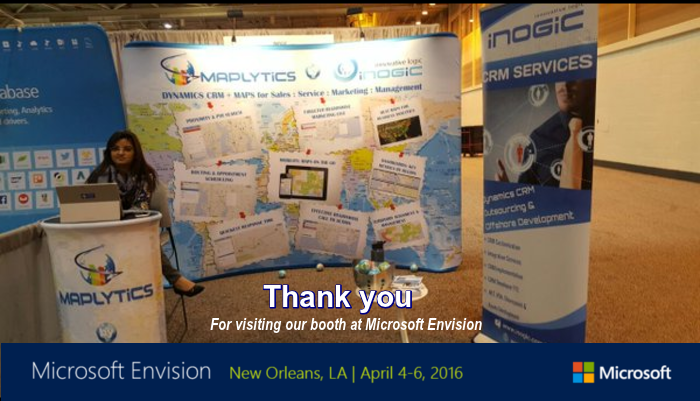 Attending Microsoft's biggest event was an incredible experience, and we hope that you enjoyed it just as much as we have. Check out our blogs and scout new features of Dynamics CRM for you to scale your business when you have always kept your company's mission and vision at the forefront. We know that it's not just creating satisfied customers but building customer loyalty and to always be in the 'forward' mode.
At the Expo floor, many had their first shot with the new version of our Maplytics, Geo-mapping tool. The experience was awesome as many from different industries dropped by our booth. It's not merely the integration of Microsoft Dynamics CRM and Bing Maps that we were stressing on. It was way beyond this. 'Staying connected' was not just the advantage that lured visitors the most. But, there were several others.
It's is truly an integral part of the game plan when this tool enables to plot the best possible route across multiple waypoints. Think smart and be ultra-stylish when backtracking would no longer trouble you.
Visual representation of data through Maplytics helps to outline everything for a marketing campaign. Not just that, it gives a clear picture of geographical regions where it's essential to focus utmost attention.
The Geo-mapping tool offers various options to search accounts across the map. It could either be by drawing a region or a freehand shape of any size anywhere on the map.
Quite obvious, apart from this Dynamics CRM add-on Envision gave us an opportunity to discuss more about CRM services. We had interactive sessions, and discussions, which were focused on what we have been offering since inception. These include CRM customizations, integrations, troubleshooting, portal development and more.
Contact Inogic today to help you prepare the road ahead for a growing business.
See you at Envision 2017 – 27th Feb 2017 in Los Angeles.