InoLink is a bi-directional integration solution to synchronize Intuit QuickBooks (Online and Desktop) with MS Dynamics CRM/365. InoLink provides a 360 degrees view of Customer accounting details right within Dynamics 365/CRM. You can find more information about InoLink here.
Video Tutorial:
Pre-requisites to installing InoLink:
Need a workstation that is always-on and always logged-in.
You should have SQL Server (Express edition allowed) installed on the workstation to host InoLink intermediary database.
In case you are integrating with QuickBooks Desktop, you should have QuickBooks installed on this workstation.
QuickBooks should be able to login to the QuickBooks company file that you would like to integrate with.
Follow the steps mentioned below to install InoLink on your system;
1. You will receive a link from us to download 'InoLink.zip' file containing InoLink Setup file, Installation Manual, User Manual and End User License Agreement. Extract the zip file on your local machine.
2. To install InoLink, double click on the 'InoLinkSetup.msi'.
3. InoLink Setup Wizard will appear. Click on 'Next' as seen below;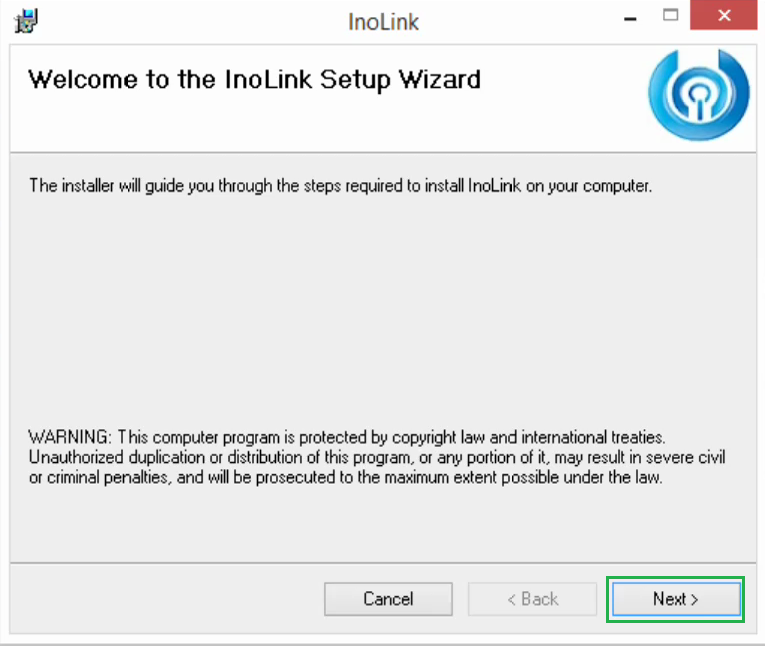 4. License Agreement window will appear next. After reading the license agreement, check on 'I Agree' and then click on 'Next' as shown below;
 5. Now select the destination where you want to install InoLink by clicking on browse on the 'Select Installation Folder' window and then click on 'Next';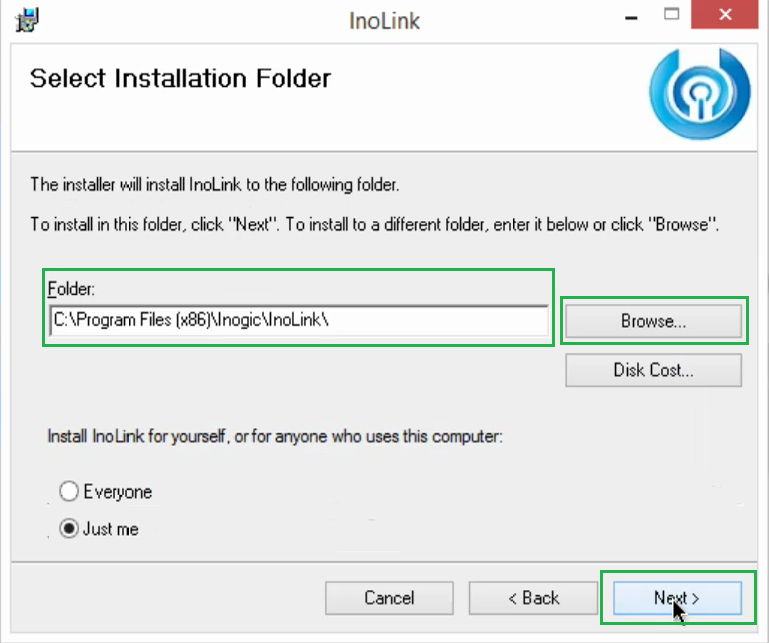 6. You will be prompted with the 'Attach database and import CRM solution' window which will help you to complete the solution install on Dynamics CRM/365 and SQL;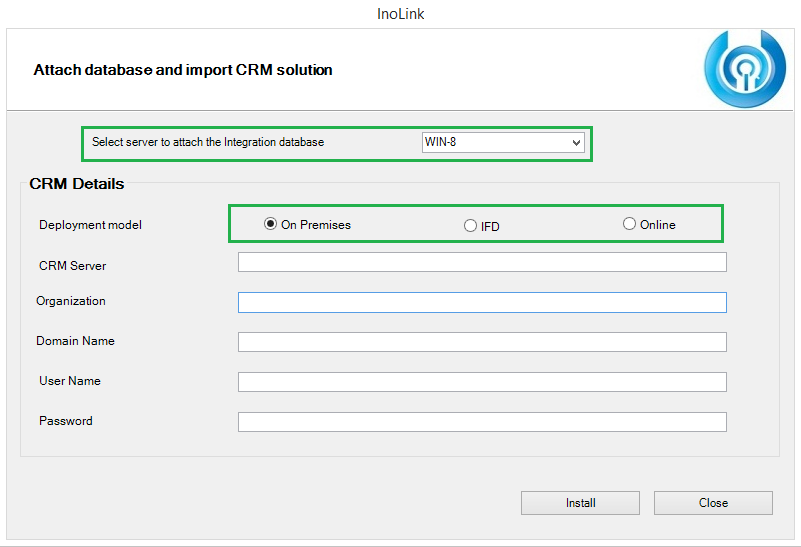 7. Select the SQL Server from the 'Select Server' drop-down If your SQL Server is not listed, manually enter the SQL Server name.
8. In the 'CRM Details' section, select the CRM deployment model. InoLink supports On-Premises, Partner-Hosted/IFD (Internet Facing Deployment) and Online deployments.
9. The CRM Server and Username structure vary based on the deployment model. The format of the three deployment models is as follows;
A. On-Premises:
a. URL: http://<server name >:<port>/<organization name>
b. Username: domain\user
B. IFD:
a. URL: https://<organization name>.<domain name>.com:<port>
b. Username: user@domain.com or domain\user
C. Online/Office 365:
a. URL: https://< organization >.<data center>.dynamics.com
b. Username: user@<organization>.onmicrosoft.com
10. After entering the details based on your deployment type, click on 'Install'.
11. Click on 'Close' to complete the installation and close the wizard;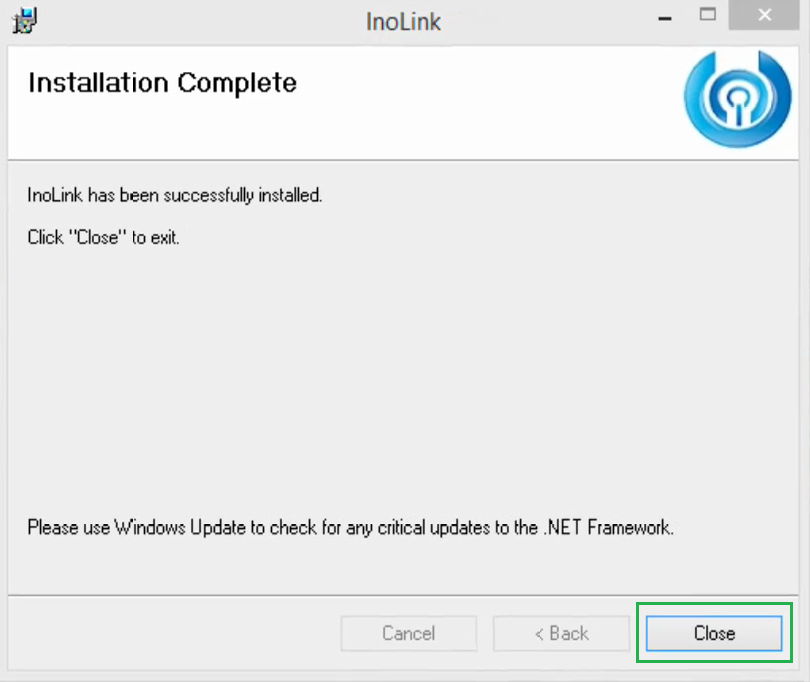 12. To verify the installation, login to your Dynamics 365/CRM environment and navigate to Settings>Solutions. Here you will see that InoLink is installed as a managed solution in Dynamics 365. Also, you can see the InoLink entities under Settings as seen in the screenshots below;


13. You can also see the InoLink Services in windows services. On your system, go to Start>Control Panel>System and Security>Administrative Tools>Services, here you can see InoLink Services as seen in the screenshot below;
Conclusion:
Now that you have successfully installed InoLink, in the next article, we will explore the steps required to connect Dynamics 365/CRM and QuickBooks using InoLink.