Click2Clone is a productivity tool designed specifically to Clone Dynamics 365 CRM records to save duplicate data entry and the number of clicks. Using Click2Clone, deep cloning can be done on both OOB and Custom Entity child records which makes it a powerful tool. It also does one Entity to another Entity cloning along with the relationships. This task of automating cloning expedites the entire business process and makes you a strategic enabler of business agility.
To derive the optimum functionality out of Dynamics 365 CRM install this solution and explore its features. In order to use the solution you need to import it first and then activate the license. In this blog we will cover how to import the solution.
Below are the steps how to import and install Click2Clone:
1. Go to Gear Icon -> Advanced Settings -> Settings -> Solutions for UCI, or Navigate to Settings -> Solutions for Classic UI, then click on Import.


2. Browse for the zipped Managed solution in the location where you have placed it.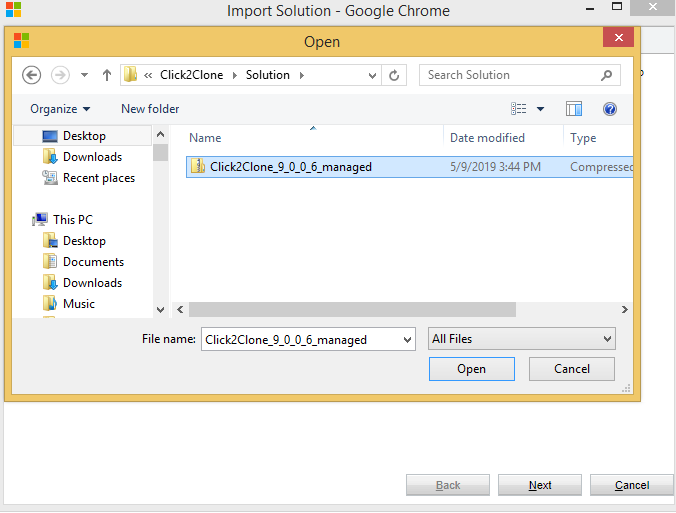 3. While importing the Solution, check 'Enable any SDK message processing steps included in the solution' as shown in the screenshot below.

4. After importing Click2Clone will be available in the solutions window.

5. Click2Clone can be viewed under Apps.

As you can see now Click2Clone is available for exploring.
Once you are done installing the solution in your environment the next step would be to activate the license and configure.
For a demo, enquiry or suggestion mail at crm@inogic.com
Go back to Click2Clone InfoCentre homepage.